You are here
German agency implements Sport for Development programme
By Saeb Rawashdeh - Sep 20,2017 - Last updated at Sep 20,2017
Children and staff from Al Quds Secondary School for Girls in Jabal Nuzha pose for a group photo with officials from the German Agency for International Cooperation (Photo courtesy of the German Agency for International Cooperation)
AMMAN — As a part of German Week 2017, the German Agency for International Cooperation (GIZ) on Monday organised an event titled "Special Demonstration" in Al Quds Secondary School for Girls in Jabal Nuzha.
The event saw the inauguration of new facilities built by GIZ and local contractors including a football demonstration by school children and a group of trainers led by Maryana Haddad — a member of the Jordanian national team.
Ismael Nouns, a team leader at GIZ, said that the agency has developed a new prototype designed for school facilities, focusing on restrooms, sanitation management, hygiene, playgrounds and gardens.
GIZ partnered with Al Quds Secondary School for Girls to implement the programme Sport for Development, said Ulrich Klar, adviser to the programme.
"We are focusing on teachers who can train a big group of pupils on the small football field and with limited material," Klar noted, stressing that the programme is a tool to educate youth in sports and social skills, two "significant elements".
Due to the regional conflicts, large numbers of Syrian and Iraqi refugees live in local host communities. The goal of this initiative is to promote a healthy lifestyle, camaraderie and peaceful coexistence among them.
"Get the Ball Rolling" is a manual for teachers, social workers and coaches, Klar continued, helping them to become role models inside the school, in the sport field and even outside of them.
"We offer teachers further education to make them familiar with our programme," Klar stressed.
Nouns commended the cooperation with the Ministry of Education and called for a strengthened institutional cooperation with the new minister regarding the national strategy.
"GIZ supports improvement of that strategy and it strengthens the management and implementation of extra-curricular activities," he highlighted.
Laura Stolz, a junior adviser responsible for the project management and coordination, said: "As I have always practised sports myself, I know how important and powerful sports are in developing children's personalities and in helping them become responsible and strong adults."
"In Jordan, with all the challenges we are facing, sports can really bring Jordanian and refugee children together and can make a positive impact on their lives, she continued.
GIZ has already trained 74 teachers and coaches from more than 30 schools across the Kingdom, Stolz said, noting that more trainings are coming up within the next few months.
For Haddad, this initiative is a combination of professionally organised football training and targeted support for personality development of young people.
"I really enjoy working with the children and fostering their development, regardless of their nationality, gender or age. In my role as a coach, I also grow and try to be a role model for the kids, both on and off the pitch," Haddad highlighted.
Related Articles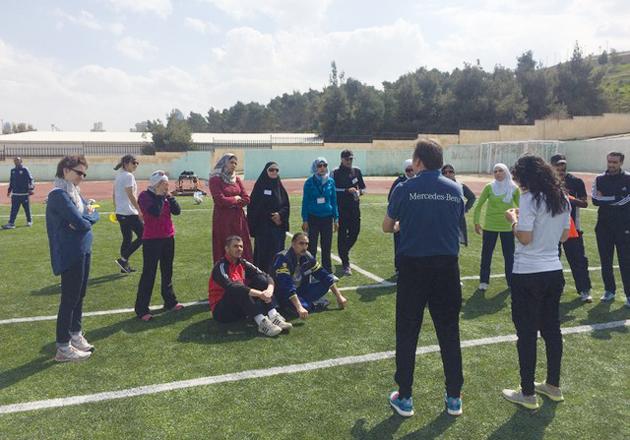 Apr 11,2017
AMMAN — With the aim of improving children's behavioural development, a German-Jordanian project is using football to harness the younger ge
Apr 11,2018
AMMAN — The German Agency for International Cooperation (GIZ) on Wednesday organised a one-day football tournament at Sports City, under the
Apr 07,2018
AMMAN — Marking the International Day of Sport for Development and Peace, the German Agency for International Cooperation (GIZ), commis
Newsletter
Get top stories and blog posts emailed to you each day.