You are here
'Germany expected to announce 300m euros in additional grants to Jordan'
Fakhoury commends Berlin's support for Kingdom amidst refugee crisis
By JT - Aug 24,2016 - Last updated at Aug 24,2016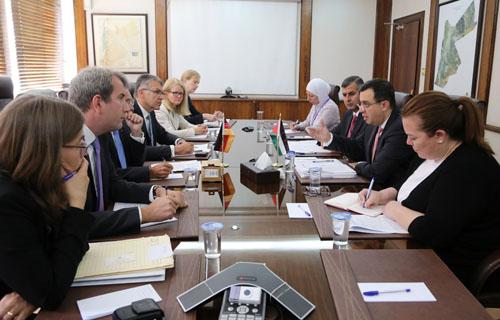 Minister of Planning and International Cooperation Imad Fakhoury meets with a German delegation in Amman on Wednesday (Photo courtesy of Ministry of Planning and International Cooperation)
AMMAN — Germany is expected to announce additional grants worth 300 million euros (around JD240 million) to Jordan in September, Minister of Planning and International Cooperation Imad Fakhoury said on Wednesday.
Fakhoury met with German Finance Minister Werner Gatzer and Friedrich Kitschelt, state secretary in the federal ministry for economic cooperation and development, on Wednesday, the ministry of planning and international cooperation said in a statement.
The grants are expected to be announced during upcoming Jordanian-German negotiations in Berlin, in line with Germany's commitments at the London donor conference in February, Fakhoury said.
Some 100 million euros will be granted in humanitarian aid to be distributed by international organisations, while 200 million euros will support communities hosting refugees in Jordan and finance development priorities in the water, education and energy sectors, the minister added.
During the meeting, Fakhoury commended the "deep-rooted" relations between Jordan and Germany, reflected in the additional grants to help the Kingdom shoulder the burdens of hosting Syrian refugees.
The minister outlined the challenges facing Jordan as a result of regional conditions and discussed developments in the Jordan Compact, which was endorsed at the London conference.
Jordan has become a model country in turning the challenge of refugees into opportunities, Fakhoury said.
According to the Jordan Compact, $1 billion is needed to support the education sector over the next three years.
Fakhoury expressed hope that Germany would urge the international community to fulfil its commitments under the Jordan Compact and encourage the European private sector to invest in the Kingdom, especially in light of the recent agreement to ease Jordanian exports' access into the EU.
The German delegation commended Jordan for its reform process and its role in enhancing peace and stability in the region, as well as its anti-terrorism efforts, the ministry said in the statement.
Related Articles
Nov 17,2016
AMMAN — Germany granted Jordan this year 425.7 million euros (JD323 million) in support of its development and humanitarian projects, reachi
Feb 25,2015
Jordan and Germany on Wednesday signed agreements on technical and financial assistance negotiated between the two countries in the past year worth 193 million euros (around JD155 million).
Apr 12,2016
AMMAN – Jordan and the German Development Bank (KfW) on Tuesday signed agreements for water and wastewater projects worth 22 million euros (
Newsletter
Get top stories and blog posts emailed to you each day.