You are here
Germany provides 20m euros to support education in Jordan
By JT - Aug 14,2016 - Last updated at Aug 14,2016
AMMAN — Jordan and Germany on Sunday signed a grant agreement worth 20 million euros (around JD16 million) to be extended by the German Development Bank (KfW) to support the Kingdom's education sector.
The KfW said in a statement e-mailed to The Jordan Times that the grant followed up on pledges made at the London Donor Conference in February in response to the government's request for support to the public education system.
The financing agreement was signed by Minister of Planning and International Cooperation Imad Fakhoury, German Ambassador Birgitta Siefker-Eberle and Director of KfW in Amman Florian Rabe.
The funds will be used to finance salaries needed to operate "double-shift" schools in the new academic year, thus supporting the Ministry of Education to provide and extend access to formal education for Syrian refugees, said the statement.
The KfW said that under the leadership of the Ministry of Education, and with financial contributions from other donors, up to 190,000 refugee children will be able to attend school.
Siefker-Eberle commended Jordan for the "bold" steps taken in recent months to ensure that every child will have the opportunity to attend school.
The funds are part of extraordinary grant commitments made by the German Federal Ministry for Economic Cooperation and Development under its new "Partnership for Prospects Initiative" launched at the London conference.
As part of the support to the education sector, 37 new schools have been constructed in recent years, most of which are already operational.
The Planning Ministry said that during the London conference, Germany pledged to extend 300 million euros in new aid to Jordan in 2016, of which 100 million euros will be in humanitarian relief to refugees through UN agencies, while 200 million euros will be to support communities hosting refugees in Jordan.
Fakhoury said the grant is part of the pledges made by donor countries to support the Education Ministry to enable Syrian children to benefit from public education without affecting the quality of education offered to Jordanians.
Related Articles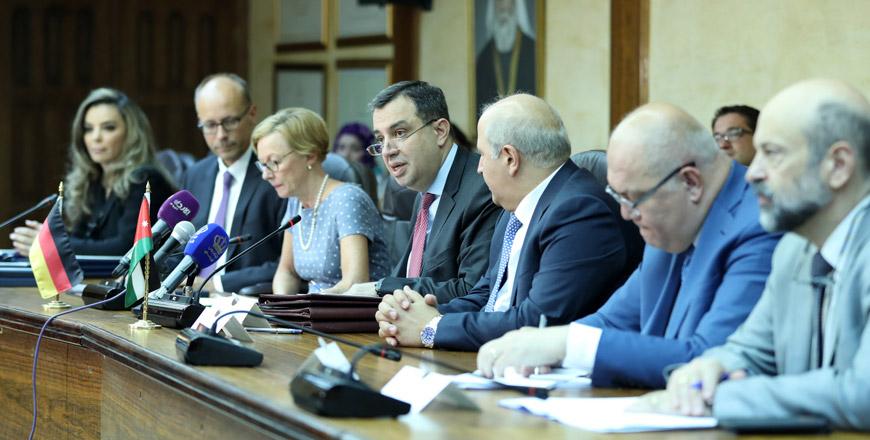 Jul 31,2017
AMMAN – Jordan and Germany on Monday signed several agreements for grants and soft loans to support development projects in the Kingdom.&nbs
Mar 29,2017
AMMAN — Jordan and Germany on Tuesday signed a 44-million-euro grant agreement to fund the Energy Supply for Host Communities and Syrian Ref
Sep 19,2015
AMMAN — The government and the German Development Bank (KfW) on Saturday signed a soft loan agreement worth 30 million euros to finance the
Newsletter
Get top stories and blog posts emailed to you each day.