You are here
Gov't intends to borrow JD785 million in 2018 to address budget deficit — minister
By Raed Omari - Mar 18,2018 - Last updated at Mar 18,2018
Lawmakers are seen during a Lower House session on Sunday in Amman (Petra photo)
AMMAN — The government intends to borrow JD785 million in 2018 to address the budget deficit and finance the debts of the Water Authority of Jordan (WAJ), the finance minister said on Sunday.
In response to a question by MP Khaled Bakkar on the government's economic plans to address unemployment and create job opportunities, Finance Minister Omar Malhas said that the JD785 million the government intends to borrow during 2018 will finance the state budget deficit and WAJ's debts to local lenders, covering installment debts as well.
Unconvinced with the minister's reply, Bakkar decided to transform his question into an inquiry.
Under the 2018 State Budget Law, domestic revenues stand at JD8.496 billion, compared with JD7.715 billion of reestimated revenues in 2017, while current expenditures are estimated at JD7.886 billion and capital expenditures at JD1.153 billion.
The after-grants deficit in the law is expected to sway to around JD543 million in 2018, dropping by JD209 million in the re-estimated value in the 2017 budget.
Also during Sunday's Lower House oversight session, Foreign Minister Ayman Safadi said that the case of the Jordanian citizen who was hit by a US officer is being looked into by the judiciary.
In response to a question by MP Saleh Armouti on the issue, Safadi added that the government is following up on the traffic accident and has been in contact with the family of the citizen who was hit in the accident.
Related Articles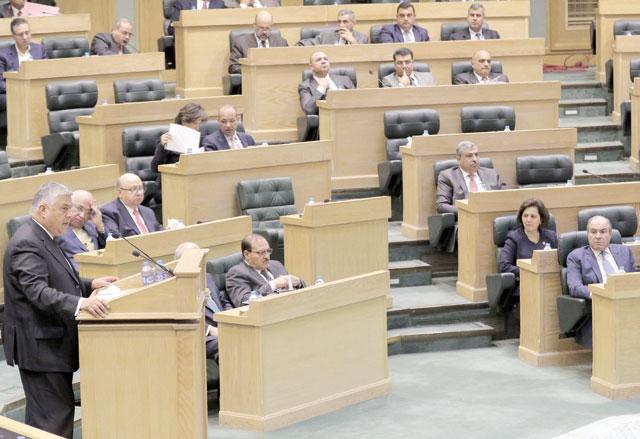 Nov 27,2017
AMMAN — The 2018 draft state budget law will include for the first time social safety network/cash subsidy with a value of JD171 million, Fi
Jan 16,2018
AMMAN — The Senate on Monday endorsed the 2018 draft state budget and budgets of independent government units draft laws as referred from th
Dec 31,2017
AMMAN — The Lower House on Sunday voted in favour of the state budget and budgets of independent government units draft law in a session tha