You are here
Gov't ready with cybercrime bill 'to curb hate speech'
Minister says victims now have effective tool to sue perpetrators
By JT - May 22,2018 - Last updated at May 22,2018
AMMAN — The Cabinet on Monday endorsed the 2018 cybercrime law, which aims at limiting cybercrimes to curb hate speech, privacy violation and other crimes, especially those committed on social media platforms.
The bill stipulates an imprisonment penalty of no less than a year and no more than three years and a fine between JD5,000 and JD10,000 for people who publish or share whatever can be described as hate speech through the Internet, websites or information systems, the Jordan News Agency, Petra, reported.
Those who establish or run websites or publish information online with the intention of promoting the use of weapons, ammunition or explosives that are not allowed by the law can face prison terms of no less than six months, according to the draft law.
The bill defines hate speech as each statement or act that can fuel religious, sectarian, ethnic or regional sedition; calling for violence and justifying it; or spreading rumours against people with the aim of causing them, as a result, physical harm or damage to their assets or reputation.
The bill stipulates an imprisonment term of no less than three months and no more than three years and a fine between JD1,000 and JD3,000 for people who use the Internet and online means to blackmail others to do things or abstain from doing things against their will.
The proposed law stiffens the penalty for those who intentionally hack a website or any information system through any means to a prison term of no less than three months and no more than a year and a fine ranging between JD500 and JD1,000.
The draft law authorises the competent attorney general to stop or deactivate any information system or website that was used to perpetrate any crime mentioned in the bill, excluding licenced websites under the Telecommunications Law, whose violations are subject to accountability under this law.
The bill also authorises the Court of First Instance to look into crimes perpetrated under its jurisdiction.
Minister of State for Media Affairs Mohammad Momani, at a press conference following the session, said that the bill is aimed at addressing violations of privacy and hate speech, especially on social media.
He stressed that the new bill is not against freedoms and the press, but stipulates constraints that enable victims to sue people who target them unjustly.
Momani noted that a court of law decides whether a publication violates personal freedoms or falls within permissible criticism, highlighting that the law has a clear definition for hate speech.
Related Articles
Jan 11,2017
AMMAN — The Centre for Defending Freedom of Journalists (CDFJ) on Wednesday urged the government to engage with experts and civil society re
Feb 15,2017
AMMAN — The Public Security Department's (PSD) anti-cybercrime unit in 2016 dealt with 3,800 crimes, 2,250 of which were referred to court.&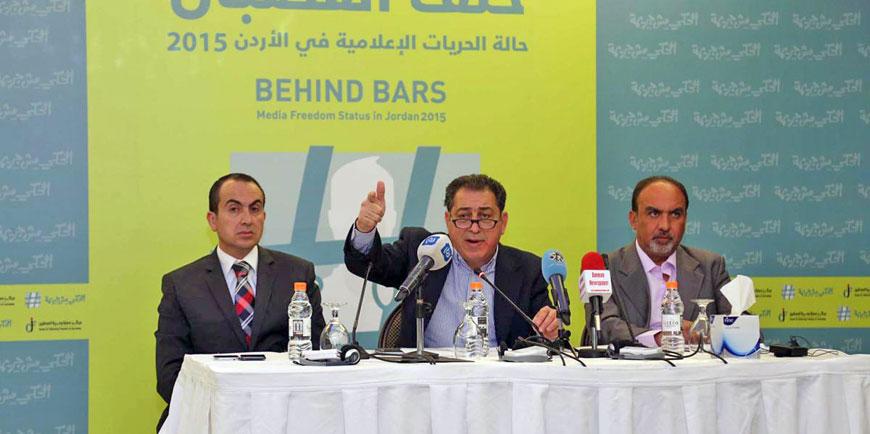 May 07,2016
AMMAN — Ten Jordanian journalists were detained last year under the Anti-Terrorism Law and the Electronic Crimes Law, while the total violat
Newsletter
Get top stories and blog posts emailed to you each day.