You are here
Government condemns Israel's newly announced settlement plan
By JT - Apr 01,2017 - Last updated at Apr 01,2017
Protesters wave flags as they demonstrate against Israel's approval of an officially sanctioned new settlement in the occupied West Bank for the first time in more than 25 years, on the Place du Chatelet in Paris, Saturday (AP photo)
AMMAN — The government on Saturday condemned the Israeli Cabinet's endorsement of a plan to build a new settlement in the West Bank following the seizing of 977 dunums of Palestinian land.
Minister of State for Media Affairs Mohammad Momani said that the decision is a "blatant violation" of the rights of the Palestinian people, especially their right to establish their independent state on their national soil, the Jordan News Agency, Petra, reported.
The decision also negatively affects efforts to revive the Middle East peace process, and provides a fertile environment for terrorist and extremist groups to flourish, stressed Momani, who is also the government spokesperson.
The official added that the decision violates international legitimacy resolutions and international law, especially the UN Security Council Resolution 2334 issued in December 2016, demanding Israel to halt its illegitimate settlement activities.
In addition, the Israeli step contradicts the Mideast peace process' terms of reference and responsibilities of "the occupying force", he said, noting that the declared move also threatens the two-state solution and peace efforts in the region.
Momani called on the international community to unite in denouncing the "irresponsible expansionist policies of Israel", work for implementing relevant international resolutions and stop "any unilateral provocative measures taken by Israel", prior to resuming negotiations that should eventually result in achieving a just and comprehensive peace.
Related Articles
Oct 16,2016
BAGHDAD — A suicide bomber struck a gathering of Shiite mourners in Baghdad on Sunday, killing at least four people and wounding another 12,
Oct 06,2016
BAGHDAD — Iraq has requested an emergency UN Security Council session over the presence of Turkish troops in northern Iraq, a foreign minist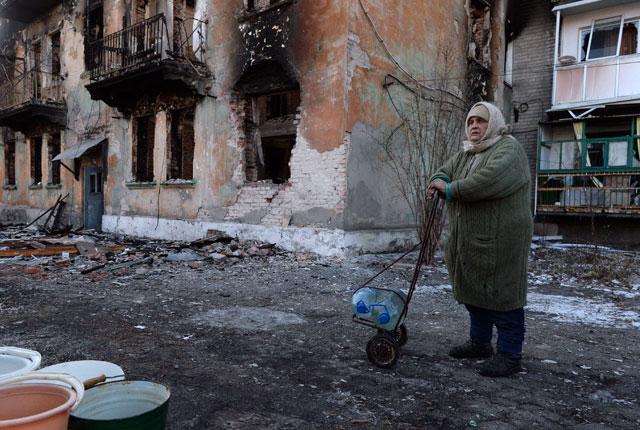 Feb 21,2015
Almost every building was gravely damaged, nearly every window smashed in this Ukrainian town left unrecognisable by months of relentless shelling. Children played in the rubble where their homes once stood, while neighbours boiled water in open fires as temperatures dipped below freezing.
Newsletter
Get top stories and blog posts emailed to you each day.