You are here
Governorate council presidents call for amending Decentralisation Law
'Working hard, determined to succeed with decentralisation process' — gov't
By Rana Husseini - Feb 18,2019 - Last updated at Feb 18,2019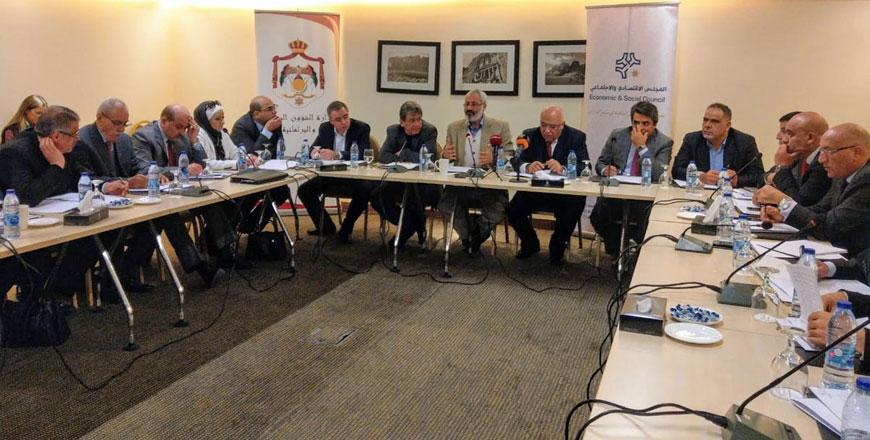 In this photo taken on Monday, government officials and heads of governorate and local councils can be seen attending a brainstorming session on the decentralisation process coorganised by the Economic and Social Council and the Ministry of Political and Parliamentary Affairs (Petra photo)
AMMAN — Government officials on Monday said they are working hard to ensure the success of the decentralisation process in Jordan.
The Economic and Social Council (ESC), in cooperation with the Ministry of Political and Parliamentary Affairs, organised a brainstorming meeting between government officials and heads of governorate and local councils to discuss the decentralisation endeavour.
"We want to hear from all of you about your experience in order to evaluate the 18-month process and work on improving the system for the benefit of the entire society," Minister of Political and Parliamentary Affairs Musa Maaytah said during the meeting.
"You work on the ground and have a stronger sense of what your communities need," Maaytah said, expressing his hope that the dialogue would contribute to reaching a clear and long-term national strategy for decentralisation, in terms of hoped-for outcomes and laws necessary to render the decentralisation effort a success.
Raed Odwan, head of the decentralisation executive committee and secretary general of the Interior Ministry, pointed out that the decentralisation experience in Jordan is relatively new and will continue.
"We need to build on the achievements and, at the same time, continuously evaluate our steps in order to avoid any mistakes in the future and in order to move forward," Odwan said.
The Interior Ministry official stressed that the "decentralisation process is here to stay and we will never back off because it is the policy of the government".
ESC President Mustafa Hamarneh said the evaluation sessions that are being held to access the decentralisation experience were upon the request of the government.
"Our aim is to go ahead with the evaluation process of the decentralisation endeavour in a bid to reach a consensus to amend the [relevant] laws in a manner that will allow people to be part of the change and decision-making process," Hamarneh told the meeting.
Hamarneh added that there will be additional meetings held with local council members and the relevant entities to hear their recommendations and suggestions.
Meanwhile, the presidents of the governorate councils listed several obstacles facing their work which they said are "weakening the decentralisation process".
The need for financial and administrative independence for governorate councils was among the major issues discussed during the meeting.
The governorate council presidents also called on the concerned officials to "work on eliminating any ambiguities in the decentralisation process, in order to better serve their communities".
They also called for amending the Decentralisation Law to give more powers to governorate councils so that they can eliminate bureaucracy.
The government officials also called for the need to raise citizens' awareness on the governorate councils, in addition to training members of these councils on legal, administrative and economic aspects.
The ESC has conducted six sessions to evaluate the decentralisation experience with lawmakers, political parties, civil society organisations, experts, academics and governors.
Newsletter
Get top stories and blog posts emailed to you each day.