You are here
Gov't proposes 'new model' to improve teachers' conditions
JTA says to study proposal; strike ongoing until then
By JT - Sep 19,2019 - Last updated at Sep 19,2019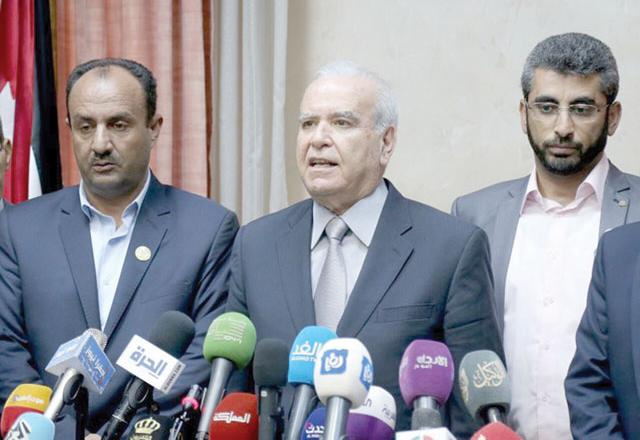 Education and Higher Education Minister Walid Maani and representatives from the Jordan Teachers Association speak to the press following talks to resolve a two-week teacher strike on Thursday (Photo by Khalid Oudat)
AMMAN — The government has presented a proposal to the Jordan Teachers Association (JTA), under which a "new model" would be set to improve the living and financial conditions of teachers as well as developing the educational process, Education Minister Walid Maani said on Thursday.
The proposal came during the second round of talks between the government and teachers, to end the latter's two-week strike, launched to demand a 50-per cent pay raise.
In a statement on the syndicate's official social media account, JTA Vice President Naser Nawasrah said that the talks did not address the 50-per cent raise, which teachers say was promised five years ago but was never implemented.
In a press statement following Thursday's meeting between the JTA and the ministerial team tasked with following up on the teachers' strike, Maani said the model will be implemented as of the beginning of 2020, noting that teachers will be able to "experience direct and tangible results", according to the Jordan News Agency, Petra.
The model will be set by a joint team of government and JTA members, noting that a draft of the model will be completed by the end of a two-month period.
JTA council member Ghalib Abu Qudeis said that the JTA will study the government's proposal to make a decision, and, until then, the strike would continue.
Thursday's meeting was the second since the relaunch of negotiations on Wednesday after over a week of deadlock.
Nawasrah said on Wednesday that the suspension of the strike hinges on the government "recognising teachers' right to the 50-per cent pay rise".
Both sides said they agreed during Wednesday's meeting on two pillars for the negotiations: The need to improve the living conditions of teachers and to develop the educational process
The government has previously said that it is committed to an agreement signed with the previous council that ties pay rises to teachers' performance, under which raises can reach up to 250 per cent.
Newsletter
Get top stories and blog posts emailed to you each day.