You are here
Hashish jokes making drug abuse look 'cool' — experts
By Laila Azzeh - Feb 25,2016 - Last updated at Feb 25,2016
AMMAN – Comical depictions of hashish smokers in jokes and movies have contributed to altering the way society views hashish abuse, according to experts.
Similar to nationals of other Arab countries, Jordanians often tell jokes making light of hashish abuse, depicting smokers as funny, indifferent, happy and sarcastic, experts said.
"These attributes make weed smokers seem like cool people. Jokes, movies and TV dramas are encouraging young people to give hashish a try," Jordan Anti-Drugs Society (JADS) President Musa Dawood told The Jordan Times on Wednesday.
A story about a hashish smoker in Amman went viral on news website this week under the headline "The dumbest hashish abuser in Amman".
Although the incident was "fabricated", it was circulated and perceived as a funny occurrence.
News websites have claimed that the Anti-Narcotics Department (AND) received a tip-off from a family who continued to find hashish cigarette butts on their balcony.
When the department staff reached the place, they found the person who allegedly was throwing the cigarettes looking at them from the window of his apartment.
An AND representative denied this story, but noted that it represents a "common" phenomenon.
"Although this incident in particular did not take place, it is very common. Smoking hashish is on the rise and it has become ordinary for some to come out as hashish abusers," Lt. Ayman Sarayreh of AND told The Jordan Times on Thursday.
Dawood agreed, noting that stereotypes associated with hashish smokers are making people "bolder" in announcing their willingness to smoke it or support to those who do.
Hashish consists of the THC-rich resinous material of the cannabis plant, commonly called marijuana.
The resin is dried and then compressed into various shapes, such as balls, cakes or cookie-like sheets.
Pieces are then broken off, placed in pipes or rolled as cigarettes and smoked, according to web sources.
The JADS president said that those caught smoking hashish are detained for 14 days and then referred to the State Security Court, which sentences them to no less than three months in prison and fines them.
In previous remarks, he said that around 450 university students were known to be drug abusers in 2015, recording a 20 per cent increase over three years, adding that the rate of drug use among students has witnessed an increase over the past 10 years.
In a lecture in Irbid earlier this week, AND Director Brig. Gen. Anwar Tarawneh said Jordan is still seen as a corridor country for drugs, with drug abusers only constituting 1 per cent of the population.
Citing UN studies, Tarawneh said that drug abuse in Jordan is not a phenomenon, despite the increase in smuggling attempts due to regional unrest, the Jordan News Agency, Petra, reported.
Last year, he noted, 1,216 people were treated at AND's rehabilitation centre for drug users, while the department's agents arrested 340 hashish users, 290 narcotic pill users, 162 heroin users, 555 synthetic cannabis users, one cocaine user and 31alcoholics.
Those arrested were sent to the correctional and rehabilitation centre affiliated with AND and received treatment for their addiction, according to Tarawneh.
Related Articles
Feb 27,2016
AMMAN — Anti-Narcotics Department (AND) personnel arrested 14,000 drug users from different nationalities last year, the Jordan News Agency,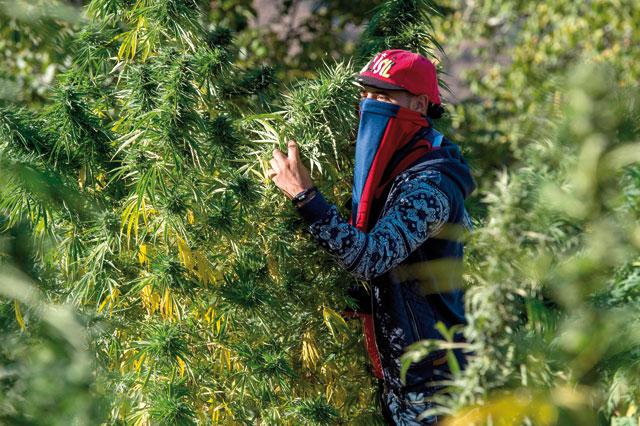 Dec 04,2017
KETAMA, Morocco — It may not feature in Morocco's official tourism brochures but cannabis attracts thousands of visitors a year to the North
Mar 31,2015
Authorities on Tuesday disputed figures cited by Jordan Anti-Drugs Society (JADS) President Musa Dawood claiming that 2.4 per cent of school students in Jordan take drugs.
Newsletter
Get top stories and blog posts emailed to you each day.