You are here
Health sector better prepared for COVID surge — Obeidat
Gov't refutes rumours of long-term lockdown
By Rana Husseini - Oct 28,2020 - Last updated at Oct 28,2020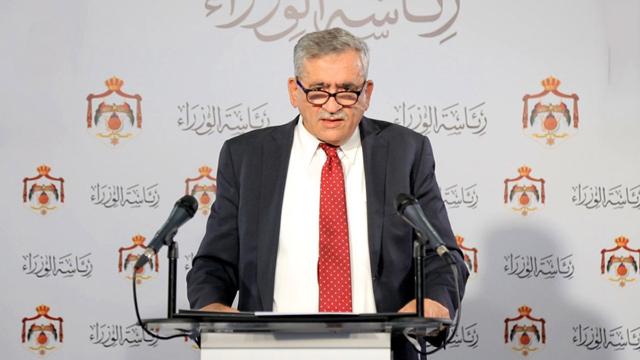 Minister of Health Nathir Obeidat speaks during a press conference at the Prime Ministry on Wednesday (Petra photo)
AMMAN — Minister of Health Nathir Obeidat on Wednesday assured Jordanians that the health sector is always prepared to receive more cases of COVID-19 in the near future.
Obeidat, speaking to reporters during a press conference at the Prime Ministry, said that claims by some individuals that "the health sector is on the verge of collapsing in the Kingdom is not true".
On the contrary, Obeidat told reporters: "We have more hospital beds and ventilators than the number of reported cases".
"The available hospital beds and ventilators are currently more than the number of reported cases and anyone can enter the hospital and receive the necessary treatment," Obeidat noted.
The minister said the government is working on securing more beads so that "we are ready for any developments in the near future".
"I would like to assure everyone that the health ministry, under the directives of His Majesty King Abdullah, is following up on the COVID-19 developments in the Kingdom and the services provided at the government hospitals," Obeidat said.
He added that the ministry instructed both the private and public hospitals to be ready to receive any COVID-19 patients.
Obeidat also assured Jordanians during the press conference that the Kingdom is ready to secure the vaccine to around 20 per cent of the citizens once it is available.
"Once the vaccine is available, around 20 per cent of the citizens will be able to obtain the treatment based on certain considerations and factors," the minister added.
Turning to the reported death cases, Obeidat said that the highest rate is among elderly citizens.
Also speaking during the press conference was Minister of State for Media Affairs Ali Al Ayed who refuted rumours that there would be a long-term nationwide lockdown.
"The nationwide lockdown will only be enforced on Friday as announced earlier, and worshippers have one hour to reach the mosque by foot to pray on that day," the minister said.
Ayed informed reporters that following the news that the Awqaf Minister tested positive, "all ministers underwent the COVID-19 test, including the premier, and they all tested negative".
Ayed, who is also the government's spokesperson, urged the public to abide by strict health measures, including washing hands and maintaining physical distancing.
Ayed also announced that the government intends to hold two press conference on a weekly basis: On Monday, to update the public on the latest developments regarding the COVID-19 pandemic, and the second on Wednesday to tackle current matters in addition to any developments related to COVID-19.
"Our aim is to be as transparent as possible with regard to all the pressing issues so that Jordanians will always be updated about any developments that touch their lives," Ayed said.
Newsletter
Get top stories and blog posts emailed to you each day.