You are here
Hollande wants France to be top investor in Jordan
By Omar Obeidat - Apr 20,2016 - Last updated at Apr 20,2016
French President François Hollande speaks at the French-Jordanian Economic Forum held at the Amman Chamber of Commerce on Tuesday (Photo courtesy of Ministry of Planning and International Cooperation)
AMMAN – French President François Hollande on Tuesday said he wanted to see his country among the top three investors in Jordan in the future.
"France is currently the sixth largest investor in Jordan but this spot is not good enough for us. In football only the top three teams get honoured. We want to move up on the ladder," Hollande said in his remarks at the French-Jordanian Economic Forum held at the Amman Chamber of Commerce (ACC).
France is the largest non-Arab investor in the Kingdom with nearly 20 blue-chip companies operating in various fields that offer jobs to over 4,000 Jordanians.
The French president, who was accompanied by a delegation of government officials and representatives of large firms in France, said there are "great" investment opportunities for French firms in the Jordanian market in different sectors such as water, renewable energy, infrastructure, tourism and transportation.
"We have confidence in the Jordanian economy and we see the political, administrative and political reforms Jordan has made recently as very important," he added.
The French president, who left the Kingdom later on Tuesday, said that his visit to the Kingdom was meant to send a message to businesspeople in France to explore investment opportunities available in Jordan, adding the visit is also a message to French tourists "who don't know much about the Kingdom" to visit it as it is a stable country that is rich of attractions.
Hollande announced that France would step up its financial aid to Jordan by extending 1billion euro in cheap loans over the coming three years, part of which will go to support the state budget.
Jordan a regional model
Hollande described Jordan as a model for the region in terms of economic development and political role.
"We want to help Jordan continue to serve as a model for the region because this region needs a model," he said, calling on the EU and the international community to step up their support to Jordan, which he said bordered by turmoil and instability due to conflicts in Syria and Iraq in addition to the Palestinian-Israeli conflict.
Jordan has received a large number of Syrians, who now represent a large share of the overall population of the country, he said.
EU and rules of origin
Hollande called on the EU and the international community to support the Jordan Compact –– the document outlining the new holistic approach Jordan presented to donors in February in London on how to deal with the Syrian refugee crisis, in addition to the pledges made by donors to help the country –– urging the EU to ease rules of origin requirements on Jordanian made product to facilitate their entry to the European market.
"Europe has to give Jordan a preferential treatment and show flexibility in the rules of origin concerning Jordanian products," he said.
IMF and G-7
In his address at the ACC, Hollande underlined a request by the government asking Paris to support Jordan's negotiations with the International Monetary Fund (IMF) as the Kingdom seeks to reach a new IMF-supported economic programme that would give it access to financing facilities worth hundreds of millions of dollars.
He said that France would support Jordan at the IMF, adding that said that his country would also ask rich countries at the G-7 meeting –– to be held in Japan late next month –– to support the economy of Jordan because "by supporting Jordan, they [rich countries] will be supporting their security.
'Jordan is your gateway to region'
Prime Minister Abdullah Ensour, who also attended the forum along with top officials from Jordan and France, urged French businesspeople and companies to explore investment opportunities in Jordan, which said would be their gateway to regional markets.
"We have taken legislative and administrative measures to enhance the investment environment in Jordan to make it more attractive for investors," the premier said, adding the government is committed to removing all obstacles that may face investors.
On the fields for investment opportunities, Ensour urged French companies to consider investments in the sectors of tourism, hospitality, energy, ICT and transportation.
Also speaking at the event was Minister of Planning and International Cooperation Imad Fakhoury, who briefed the French delegation and attendees on the business climate in Jordan and the Kingdom's ranking in international reports.
Fakhoury also talked about the burdens caused by the influx of more than 1.2 million Syrians into Jordan and strained the jobs, infrastructure and services sectors, in addition to pressure on the budget and their impact on the rise of rentals.
Fakhoury also talked about the Jordan Compact, which he said aims at turning the Syrian crisis into a development opportunity that could attract new investments.
Jordan Compact approach is based on three pillars, to support Jordan's growth agenda whilst maintaining its resilience and economic stability as it entails turning the Syrian refugee crisis into a development opportunity that attracts new investments and opens up the EU market with simplified rules of origin, creating jobs for Jordanians and Syrian refugees whilst supporting the post-conflict Syrian economy; rebuilding Jordanian host communities by adequately financing through grants the Jordan Response Plan 2016-2018, in particular the resilience of host communities; and mobilising sufficient grants and concessionary financing to support the macroeconomic framework and address Jordan's financing needs over the next three years.
ACC Chairman Issa Murad said that Jordan is looking forward to seeing Jordanian exports enter the European market by simplifying rules of origin.
Related Articles
May 19,2016
AMMAN — HRH Prince Feisal, the Regent, on Wednesday received President of the French Business Confederation (MEDEF) Pierre Gattaz, who is he
Apr 20,2016
AMMAN — His Majesty King Abdullah and French President François Hollande on Tuesday held summit talks over ways to enhance Jordanian-French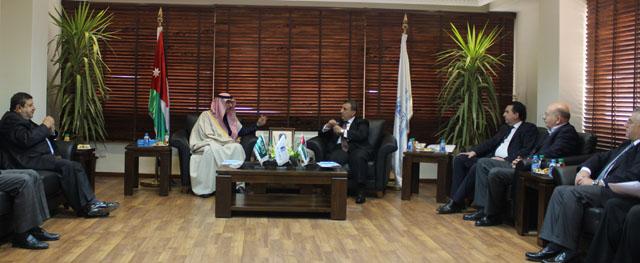 Feb 28,2015
President of the Amman Chamber of Commerce (ACC) is preparing studies for investment opportunities in Jordan to be presented to Saudi investors in the coming months, ACC President Issa Murad said on Saturday. 
Newsletter
Get top stories and blog posts emailed to you each day.