You are here
Hotel occupancy picks up on occasion of Royal wedding
By Rana Tayseer - Jun 02,2023 - Last updated at Jun 02,2023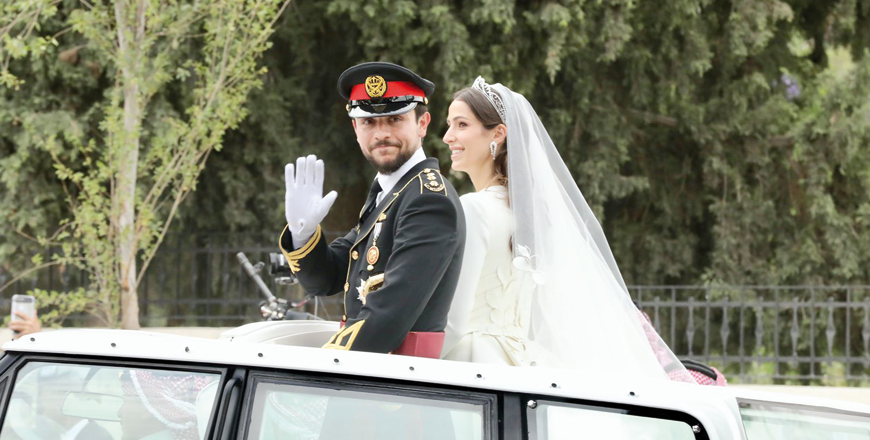 Their Royal Highnesses Crown Prince Hussein and Princess Rajwa Al Hussein greet the public during the Royal Red Motorcade procession following their wedding ceremony on Thursday (Photo by Osama Aqarbeh)
AMMAN — Occupancy rates in Jordan's five-star hotels increased, coinciding with the wedding of HRH Crown Prince Hussein.
The occupancy rate in Amman hotels this weekend reached 78 per cent, and five-star hotels in the Jabal Amman neighbourhood reached 95 per cent, coinciding with the Kingdom's celebrations on the occasion of the wedding, Hussein Hilalat, a member of the Board of Directors of the Jordan Hotels Association, said in a press statement.
Occupancy rates in hotels at the Dead Sea reached 85 per cent, Petra 66 per cent, and Aqaba 84 per cent, the statement said.
The occasion witnessed celebrations by the Petra Development and Tourism Region Authority, with European tourists participating in wedding celebrations in which both Jordanians and visitors rejoiced, according to Hilalat.
Hilalat said that the percentage of five-star hotel reservations in Aqaba reached an average of 84 per cent on Wednesdays, Thursdays and Fridays, which include May 31 and June 1-2, compared to 85 per cent at the Dead Sea, 75 per cent in Amman and 66 per cent in Petra.
Occupancy rates in four-star hotels in Aqaba amounted to 83 per cent, the Dead Sea 80 per cent, Amman 57 per cent, and Petra 66 per cent, Hilalat said.
He said that three-star hotels had an occupancy rate of 60 per cent in Amman, 39 per cent in Petra and 85 per cent in Aqaba.
He said that the wedding of the Crown Prince "is a Jordanian wedding with distinction, with its customs and traditions, and it presents a picture of Jordan and what happens in our homes, clans and camps, and it conveys this image outside of Jordan."
Hilalat stressed that "the tourism sector constitutes about 14 per cent of Jordan's GDP, as tourism is Jordan's oil."
"The initiatives of HRH Crown Prince Hussein and his foundation encouraged the tourism sector," according to Hilalat, who indicated that investment in hotels has increased significantly.
"Today we have about 600 hotels, and this is the result of the demand, the rise and the Royal support for this sector," Hilalat said.
Newsletter
Get top stories and blog posts emailed to you each day.