You are here
'Improved labour market would help Jordanians compete with guest workers'
By Dana Al Emam - Jun 13,2017 - Last updated at Jun 13,2017
AMMAN — Improving working conditions for guest workers and refugees in the local job market has a positive impact for job creation that can benefit Jordanian job seekers and increase their employment, a recent study by the International Labour Organisation (ILO) concluded.
The ILO study found that Jordanians are keen to work in all sectors and professions, provided working conditions are decent, citing on-time payment of wages, reimbursement for overtime, predictable and sustainable working hours, skill-based production methods and recognition of effort as factors that influence their willingness or eagerness to work.
However, difficult job conditions prevalent among refugees and guest workers, including late payment, non-payment for overtime, long and unpredictable working hours and reliance on low-productivity production methods, make it harder for Jordanians to compete, Susan Razzaz, the author of the study, said at the launch event on Monday.
Titled "A challenging market becomes more challenging: Jordanian workers, migrant workers and refugees in the Jordanian labour market", the study examines the agriculture, construction, domestic work, manufacturing and tourism sectors through data gathered from nearly 1,000 individuals, including employers, Jordanian and foreign workers, unemployed people, government officials and other stakeholders.
Financed by the Swiss Agency for Development and Cooperation, the study seeks to provide practical solutions to the three conflicting policy aims of the local job market: boosting Jordanian employment, ensuring decent working conditions for all, including migrant workers and incorporating Syrian refugees into the workforce.
There are some 1.4 million Jordanians enrolled in the local job market, a figure that is estimated to be equal to the number of guest workers and refugees working in the Kingdom, according to the ILO.
Regarding work permit regulations, the study cites a "disconnect" between work permit regulations and the reality on the ground, explaining that the private sector usually needs short-term and part-time employment, while permits must be for at least a year.
This leads to worker shortages in some sectors and an excess in others, according to the study, which cites "constrained" government ability to monitor the non-Jordanian workforce, Razzaz noted.
Nearly 1.1 million non-Jordanians work in the county without work permits, while those who have obtained legal permits via sponsors number around 240,000, while those who have obtained permits through the black-market are around 80,000, according to the study.
In addition to improving overall working conditions, the study recommends developing programmes aimed at increasing the employment of Jordanians. In addition, it suggests reviewing regulations governing work permits to better address private employers' needs and protect both workers and employers.
"The international community should contribute its fair share to the long-term welfare of Syrian refugees and support Jordanians in coping with macroeconomic shocks that resulted from regional crises," Razzaz highlighted.
For his part, ILO Country Coordinator Patrick Daru pointed to working conditions and wages as major factors that influence unemployment rates, noting that job creation and the volume of the private sector in Jordan are limited.
He cited a need for a "social dialogue" between workers, employers and authorities on what needs and can be done.
Pascal Raess from the Swiss agency highlighted a need for a holistic approach in addressing employment issues in the region, adding that employment-related challenges in Jordan can be considered as an opportunity to improve the employment regulatory framework.
Related Articles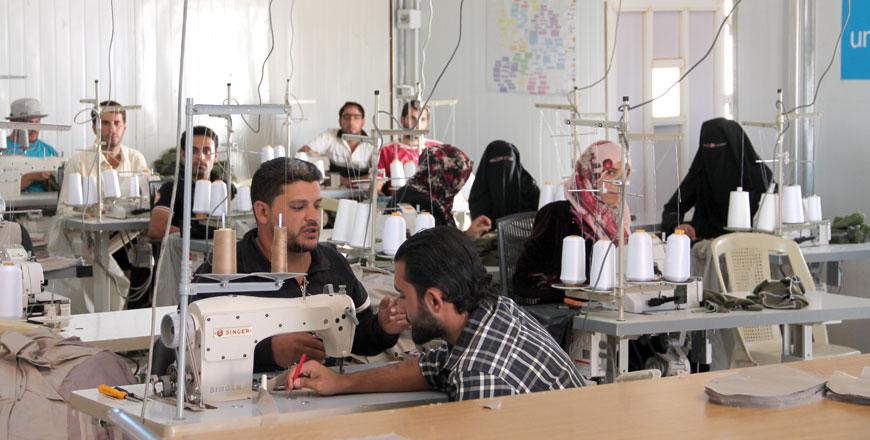 Oct 05,2017
AMMAN — The labour situation of Jordanians has become very much tied to the presence and situation of migrant workers and Syrian refugees, a
Aug 22,2017
AMMAN — The International Labour Organization (ILO) and the UN refugee agency UNHCR have inaugurated the first employment office inside a Sy
Oct 02,2017
AMMAN — One month after the government's decision to allow Syrian refugees to obtain work permits, the Zaatari Office for Employment (ZOE) i