You are here
Indonesian ambassador hosts martial arts event in Amman
By JT - Jul 22,2019 - Last updated at Jul 22,2019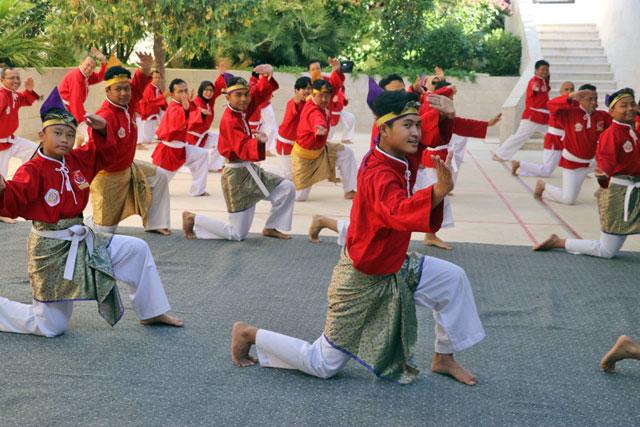 Students perform the Indonesian martial art, pencak silat, at the Indonesian ambassador's residence in Amman on Thursday (Photo courtesy of Indonesian embassy)
AMMAN — Indonesian Ambassador to Amman Andy Rachmianto on Thursday hosted a pencak silat performance at his residence in an effort to promote the Indonesian martial art.
"The Indonesian embassy has been seriously promoting pencak silat to be better known in the land of prophets through innovative ways," the ambassador said in a statement from the Indonesian embassy.
The event featured 25 students from three classes divided into juniors, teens and seniors, who performed various artistic self-defence moves, including combat simulations, the statement said.
Around 80 guests attended the event including representatives from the Ministry of Youth and Culture, the Jordan Olympic Committee, martial arts associations and academic institutions.
The event aimed to spread awareness about pencak silat in Jordan in the hopes that Jordanians may take up the sport, according to the statement.
During the presentation session, a representative from the Indonesian pencak silat Association, Ratna Juwita said: "For the last couple of years pencak silat has been competed in various international tournaments, including during the Asian Games 2018 in Indonesia."
"Pencak silat as a branch of sports is increasingly gaining widespread attention from the international community. Pencak silat is now being played in more than 40 countries," Ratna added.
"I hope in the not too distant future, a pencak silat association can be established in Jordan, which will support Indonesia's efforts to include it as one of the sports in the Olympic Games," Rachmianto emphasised.
Pencak silat has been featured in the "Fast and Furious 6", "Mile 22" and "John Wick 3: Parabellum", according to the statement.
Newsletter
Get top stories and blog posts emailed to you each day.