You are here
INJAZ honours winners of National Entrepreneurship Competition
By Laila Azzeh - Oct 19,2015 - Last updated at Oct 19,2015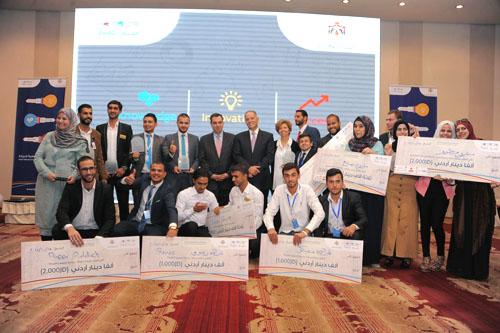 Planning and International Cooperation Minister Imad Fakhoury with winners of INJAZ's National Entrepreneurship Competition during a ceremony in Amman on Monday (Photo courtesy of INJAZ)
AMMAN – Reviving traditional Jordanian cuisine while exploring the connection between culinary heritage and health benefits is the main aim of "Our Country's Goods" company.
Established by Ahmad Sadi Al Zaben along with another partner, the firm is initiated under INJAZ's Company Start-up Programme, a three-phase initiative that strives to entrench the culture of entrepreneurship among young people.
While displaying his start-up's products at a trade fair held on Sunday as part of INJAZ's National Entrepreneurship Competition, Zaben cited the nutritional benefits of the "bkeileh", a traditional dessert made with fried grinded wheat mixed with margarine, sugar and water.
"I discovered bkeileh by chance while I was looking for old nutritional recipes our grandmothers used to come up with to feed their families. The idea of the company is to introduce these recipes to the new generations, who otherwise would never have the chance to try them," Zaben told The Jordan Times.
Products of "Our Country's Good" are now on display in one of Amman's upscale malls.
Winners of the National Entrepreneurship Competition included start-ups specialised in manual printing services, extracting minerals through recycling, roof greening, food marketing and new cultivation techniques.
"The meaning of entrepreneurship and how to become an entrepreneur are the main skills the project is keen on instilling in our youth," INJAZ CEO Deema Bibi said at the ceremony to announce the winners.
Currently, there are 87 active start-ups managed by 236 students within the programme.
"The profits of some of these companies have topped 100 per cent during the first year and others have gone global," she highlighted.
Minister of Planning and International Cooperation Imad Fakhoury said the ministry has established a special fund to provide around 80 per cent of the guarantees required for loans extended to youths wishing to run their own businesses.
He added that the ministry supports INJAZ's Company Start-up Programme as part of its endeavours to empower youth.
Underlining the important role civil society organisations and local entities play in pushing the development process forward, Fakhouri said the ministry has established several partnerships with societies and youth and women's institutions.
During the ceremony, the results of the best social entrepreneurship award were announced.
"INJAZ is aware that social entrepreneurship is as important as business entrepreneurship. The award recognises enterprises that aim at empowering youth," said Bibi.
Established in 1999, INJAZ aims to "inspire and prepare young Jordanians to become productive members of society and succeed in a global economy".
INJAZ, which started off as a USAID-supported programme, was launched as an independent Jordanian nonprofit organisation by Her Majesty Queen Rania in 2001.
up
55 users have voted, including you.
Related Articles
May 15,2017
AMMAN — INJAZ recently announced the winners of its annual National Entrepreneurship Competition, which aims to improve students' skills and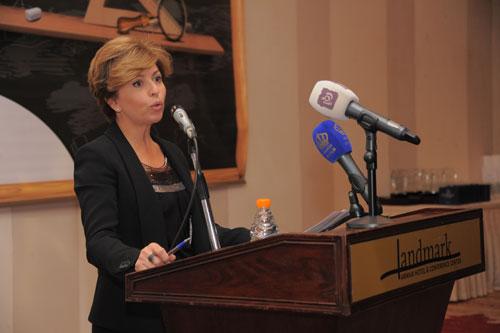 Apr 09,2015
As its name connotes, INJAZ (achievement) has been able to make strides in one particular area that is deemed challenging to young Jordanians — knowing what they want to do after finishing school, according to the NGO's members and volunteers.
Sep 27,2016
AMMAN — Winners of this year's Princess Basma Award for Human Development and Community Service tapped into different, yet crucial issues: r
Newsletter
Get top stories and blog posts emailed to you each day.