You are here
Int'l experts boost Jordanians' electoral management capacities
By Camille Dupire - Jan 31,2018 - Last updated at Jan 31,2018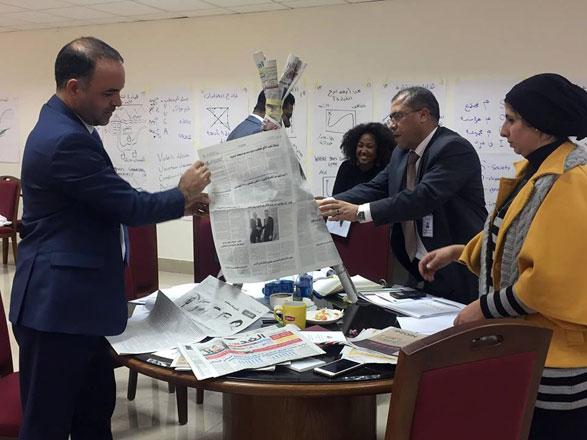 Employees from the Independent Election Commission (IEC) perform an activity during a training on electoral management at the IEC headquarters in Amman on Wednesday (Photo by Camille Dupire)
AMMAN — Thirty-one employees from the Independent Election Commission (IEC) are currently receiving training by international experts, as part of a programme aimed at developing capacities at the crossroads between leadership and election management.
"The Leadership and Conflict Management Skills for Electoral Stakeholders (LEAD) programme is not a regular training directed by subject matter experts. Instead, we focus on facilitating capacities in a Socrative way which enhances trainees' participation and involvement," said trainer Steadman Harrisson, CEO of Go Innovation.
The LEAD training, which is implemented by European Centre for Electoral Support (ECES) in partnership with the Center for Creative Leadership (CCL-LBB), started on Tuesday, ten days after the arrival of the training team.
"We spent a while working on the cultural customisation of the programme, mostly by Arabising it to suit the local environment," said Aous Qutaishat, adviser to the IEC chairman, noting that "this does not only mean translating the material, but also adapting it to the cultural values and local practices in order to have a stronger impact."
For Tareq Bataineh, director of administration and finance at the IEC, this adaptation to the Jordanian context was "extremely useful" for better understanding of how to handle electoral matters and in-staff management.
"I began using the methodology taught by the trainers when assigning tasks to my staff. For instance, I started providing 80 per cent positive feedback and 20 per cent negative comments when assessing co-workers' performances," he told The Jordan Times at the training, noting that "I believe this greatly helps in building and boosting staff capacities."
Head of the software department Suhair Rahhal for her part stressed the importance of this five-day workshop in better understanding how to deal with actors involved in the electoral process.
"On voting day, we have over 5,000 IT people working in the polling stations across the Kingdom, and it is crucial for me to be ready to face any developments or situations during each step of the process," she explained.
"We noticed that, since the beginning of the training, employees started interacting much more with each other, sharing common issues and problems they face in their daily work," Franck Balme, a French electoral expert conducting the training on Tuesday.
LEAD, which is defined as "a flexible learning tool" by its organisers, includes workshops on betrayal, transactional trust, growth mindset and listening, among others, through interactive tools such as storytelling, hands on activities and visual imagery games.
"These people already know all about the elections as this is the core of their job," explained Harrisson, stressing that "however, they rarely have the techniques and the skills needed to become trainers themselves, which is what we are providing them here."
Trainees will then move on to become trainers themselves, both within their communities and later at the regional level, according to ECES coordination advisor Martina Garbuglia.
up
64 users have voted, including you.
Related Articles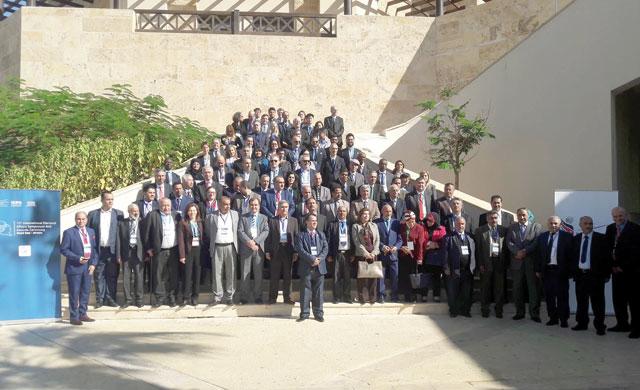 Dec 05,2017
DEAD SEA — The 15th International Electoral Affairs Symposium kicked off on Monday at the Dead Sea, gathering participants from more than 35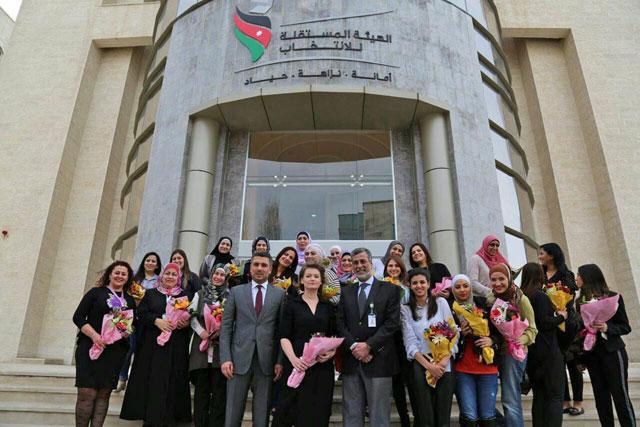 Mar 08,2018
AMMAN — The Independent Election Commission (IEC) and the Permanent Electoral Authority of Romania (RPEA) on Thursday signed a memorandum of
Sep 22,2016
AMMAN – Experts on Wednesday praised the Independent Election Commission (IEC) for successfully administering Tuesday's parliamentary polls
Newsletter
Get top stories and blog posts emailed to you each day.