You are here
Int'l speaker brings public speaking tips to aspiring leaders
By Camille Dupire - Oct 18,2018 - Last updated at Oct 18,2018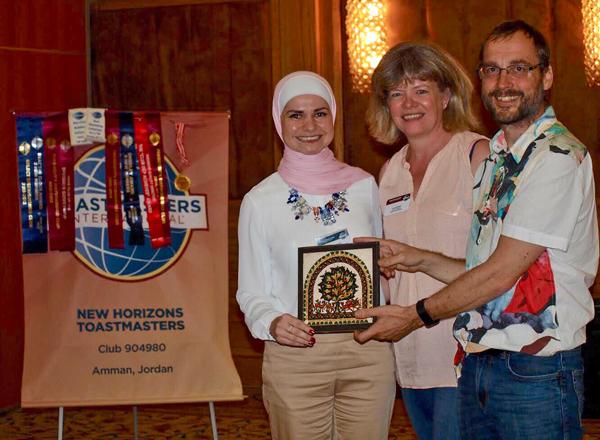 Toastmasters officials pose with world famous speaker Peter Zinn in Amman on Wednesday (Photo courtesy of Toastmasters Club)
AMMAN — A non-profit educational organisation dedicated to improving people's public speaking and leadership skills on Wednesday held a one-of-a-kind workshop, where attendees got to listen to world renowned public speaker Peter Zinn's advice on entrepreneurship and public speaking.
During a workshop held under the theme "How to make your speeches memorable!" some 60 Toastmasters Club members were acquainted with the international keynote speaker's "SUCCESS" concept, which focuses on delivering a speech that is "Simple, Unexpected, Concrete, Credible, Emotional, Story teller, in order to be Spectacular".
"The idea of thinking about something to say in a speech in 30 seconds and deliver it in two minutes is very interesting. Even though most of my experience is in speaking as I train people and speak very often, this taught me a lot and the model provided by Zinn was very beneficial," said Nour Al Tobasi, a training manager at Mawdoo3 who took part in the event for the very first time.
"I learned a lot, including things I would not have thought about: I learned to watch my English, not to use certain words many times or that you need to connect with people when you speak," she told The Jordan Times after the event.
"The world needs leaders and these leaders must not only accomplish, they must communicate," stated the New Horizons Toastmasters Club's president, Hiba Shabrouq, adding, "every Toastmasters' journey begins with a single speech. Then, through our community of learners, they find their path to leadership, while gaining greater self-confidence and personal growth."
One of 18 clubs in Jordan — 14 English-speaking, three Arabic and one French-speaking — the Toastmasters Club seeks to empower individuals from all walks of life through communication and leadership training.
"We have members from Jordan, India, the US, Kenya, all seeking to improve their skills by taking part in our bi-monthly event," Shabrouq, an award-winning Jordanian engineer herself, told The Jordan Times on Thursday, highlighting participants' "great delight after this beneficial workshop", as they voiced their desire to learn more about these speech delivery skills.
"During their journey, toastmasters learn to tell their stories. They listen and answer. They plan and lead. They give feedback — and accept it," Shabrouq explained, noting that "by regularly giving speeches, receiving feedback, leading teams and guiding others to achieve their goals in a supportive atmosphere, the programme creates real leaders."
On Wednesday, toastmasters received the unique feedback of Zinn, a successful professional, who has spoken in 29 different countries with the aim of "moving the world from boarding speeches and presentations to exciting interactions and performances, worth to be remembered".
A global organisation strong of 357,000 members worldwide, Toastmasters International counts over 16,600 clubs in 143 countries, according to a statement sent to The Jordan Times.
Newsletter
Get top stories and blog posts emailed to you each day.