You are here
ISIL 'attacks' Jordanian Al Qaeda supporter
By Taylor Luck - Jun 19,2014 - Last updated at Jun 19,2014
AMMAN — The Islamic State of Iraq and the Levant (ISIL) has been implicated in a recent attack on a prominent Al Qaeda supporter in Jordan, raising concerns of more friction between radical Islamists in the country.
According to the hard-line Jordanian Salafist movement, a group of six suspected ISIL supporters attacked Eyad Al Quneibi, a professor of pharmacology at the Amman-based Applied Sciences University, early Wednesday as he was leaving his Amman home.
The club-wielding assailants proceeded to beat Quneibi and smash in his vehicle's windshield, chanting pro-ISIL slogans, he claimed on a post on his Facebook page.
"It seems that six misguided, uneducated supporters of the Islamic State attacked Eyad for his views," said Mohammed Shalabi, or Abu Sayyaf, leader of the Jordanian jihadist movement.
Jihadist sources say the attack on Quniebi, a close confidant of Abu Mohammad Al Maqdissi, the recently freed Al Qaeda cleric and Islamic scholar who has been one of ISIL's most vocal critics — had actually intended to target the cleric himself.
Maqdissi denounced the attack, which he claimed came as a "message" and a "warning" from ISIL to him and his followers.
Prior to his release upon completion of a five-year prison term, Maqdissi issued a series of fatwas denouncing ISIL, referring to its leadership as "liars", accusing them of "deviating from righteousness" and calling on fighters to abandon the movement.
The Al Qaeda cleric had largely shied away from the limelight following his release from prison on Monday, refusing to issue public statements or comment on ISIL's recent rapid gains in neighbouring Iraq.
Insiders say Maqdissi's silence was designed to avoid escalating the deepening divide between Jordanian ISIL and Al Qaeda supporters.
"Abu Mohammad does not approve of ISIL's lack of respect for other clerics and its willingness to shed the blood of jihadists for personal gains, but he has remained silent to keep the peace," said a member of the cleric's inner-circle. "Today it seems that the peace has already been broken."
The incident marks the third such attack on pro-Al Qaeda individuals in Jordan in less than two months.
Jordan's Salafist movement boasts some 8,000 followers, according to observers, who remain split over allegiances between Al Qaeda and its former affiliate ISIL.
Some 1,000 Jordanians are reportedly fighting under ISIL's banner in Iraq and Syria, while some 800 are serving in the ranks of Jabhat Al Nusra, according to Jordanian and Syrian jihadist sources.
ISIL and Al Qaeda have been locked in a bitter rivalry over control of the global jihadist movement, with ISIL engaging its former parent organisation in a brutal jihadist civil war in Syria that has reportedly left over 3,000 dead.
Al Qaeda officially broke off ties with its former Iraq affiliate after its Baghdad-based leadership refused to leave Syria and cede territory to Al Qaeda's official Syrian arm, Jabhat Al Nusra.
Related Articles
Jul 17,2014
Five Jordanian Islamists have filed with an internal court a case against a leading Al Qaeda cleric for comments critical of the Islamic State of Iraq and the Levant (ISIL) in the latest chapter of rising tensions between supporters of the rival jihadist groups.
Jun 11,2014
Authorities are set to release on Monday one of Al Qaeda's most prominent leaders amid a reported series of death threats to the cleric from a rival jihadist group.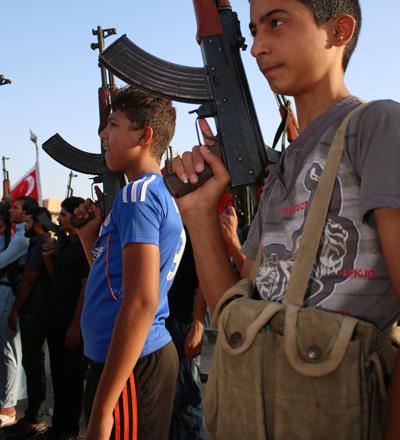 Jun 23,2014
The Kingdom on Monday continued sending military reinforcements to the country's border with Iraq, where business was as usual regarding the flow of passengers and goods, sources said.
Newsletter
Get top stories and blog posts emailed to you each day.