You are here
Israel acts in holy city threaten peace treaty — gov't
Feb 26,2014 - Last updated at Feb 26,2014
AMMAN — The government on Wednesday warned that Israeli unilateral actions in East Jerusalem would undermine the peace treaty between Amman and Tel Aviv.
In a statement, Minister of State for Media Affairs and Communications Mohammad Momani cautioned that Israeli violations of Al Aqsa Mosque put the peace treaty between Jordan and Israel on the line, along with efforts of the international community to push forward peace negotiations between the Palestinians and the Israelis.
Momani, who is acting minister of foreign affairs, also denounced Israeli acts that infringe Jordanian sovereignty over the holy sites, calling on the Israeli government, as the occupation authority, to stop all acts of aggression against the holy sites.
The minister, who is also the government spokesperson, said the Hashemite custodianship of the holy sites in Jerusalem is not an Israeli grant, but a historic responsibility of the Hashemites highlighted in the peace treaty between Jordan and Israel, and in accordance with the agreement signed between King Abdullah and Palestinian President Mahmoud Abbas in March last year.
Meanwhile, the official position was echoed by Jordan's Ambassador to Egypt and Permanent Envoy at the Arab League Bisher Khasawneh, who delivered Jordan's address at an extraordinary session of the pan-Arab organisation in Cairo on Wednesday to discuss Israeli practices in Jerusalem. Jordan's stand received support from other Arab representatives, according to the Jordan News Agency, Petra.
Petra quoted Khasawneh as underlining that Jordan's efforts to safeguard the holy sites in Jerusalem and reiterating denunciation of Israeli acts, which he described as "null and void" because Jerusalem is an occupied city as labelled by the international legitimacy agencies.
"Israel should know that there is no peace if the measures to Judaise Jerusalem and infringe its sacred sites continue," he said.
He said that Jordan has succeeded in derailing the Knesset motion to annex the holy sites.
The Arab League Council adopted Jordan's position and issued a statement condemning Israeli policies in the holy city.
Related Articles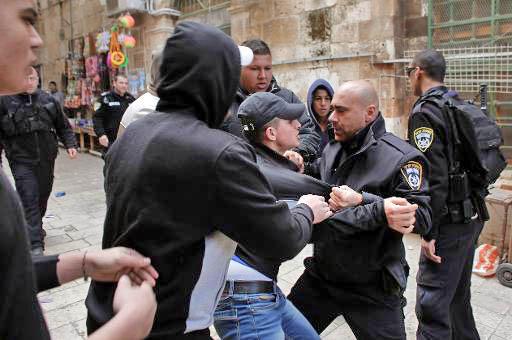 Feb 25,2014
The Lower House urged the government on Tuesday to take a firmer stand as the Israeli Knesset has scheduled a renewed debate over a proposal to strip Jordan from its status as the custodian of the holy shrines in Jerusalem.
Oct 26,2014
Jordan warned Israel on Sunday the 20-year-old peace treaty with Israel would be threatened by continued Jewish settlement building on occupied land and any effort to change the religious status of a key Muslim shrine in Jerusalem.
Feb 16,2014
Prime Minister Abdullah Ensour on Sunday said the government would not take action for a planned motion by the Israeli lawmakers efforts to cancel Jordan's role as custodian of the holy sites in Jerusalem, as "no official decision is made yet".
Newsletter
Get top stories and blog posts emailed to you each day.