You are here
Israeli aggression on Gaza dominates social media in Jordan
By Mohammad Ghazal - Jul 21,2014 - Last updated at Jul 21,2014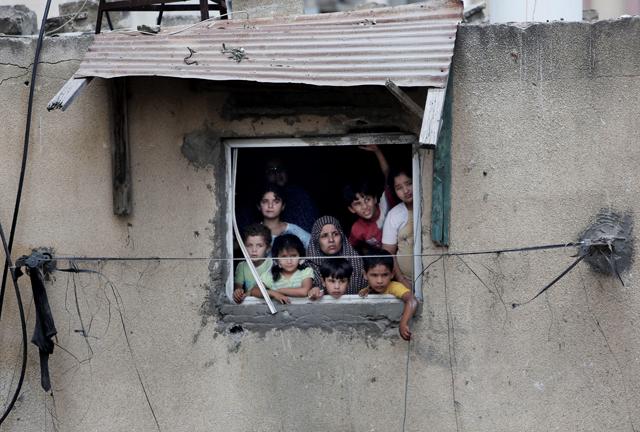 AMMAN — Israel's war on the Gaza Strip dominated social media in Jordan as well as in the rest of the Arab world on Monday.
Twitter users from several countries posted pictures and news about Israel's massacre of Palestinians in the Shejaiya area in the Gaza Strip on Sunday that resulted in the killing of more than 70 civilians.
The majority slammed Arab and international silence over Israel's targeting of civilians in the besieged coastal enclave, with many calling for humanitarian intervention to end the loss of life.
"May God be with you in Gaza. What is happening in Gaza is a mark of shame for the international conscience. Oppression will not last long," Suleiman_alsalem (@suliman_alsalem) tweeted on Monday.
At least 100 Palestinians were killed Sunday as Israel ramped up a major military offensive in the bloodiest single day in Gaza in five years, Agence France-Presse reported.
Slamming Arab silence, Bassam Elayyan (@bassam7902) tweeted: "Palestinians lost confidence in Arabs who are deaf to what is happening in Gaza."
Several Facebook and Twitter users called for praying for Palestinians in Gaza.
"You do not need to be Muslim to stand up for Gaza you just need to be human," tweeted Mnyal Saad (@_mnyalsaad).
Others called for scrapping the peace treaty between Jordan and Israel and the expulsion of the Israeli ambassador in Amman.
Social media users have been posting pictures about the Israeli aggression against Gaza since it started earlier this month, expressing solidarity with the Palestinians and calling for more attention to their plight.
Related Articles
Jul 09,2014
Social media users from Jordan on Wednesday slammed the world's silence and inaction in the face of an Israeli offensive against Gaza, which has so far resulted in the death and injuries of hundreds of Palestinians.
Sep 16,2015
AMMAN — Tweeps on Tuesday slammed Arabs' and Muslims' inaction in the face of Israel's escalation at Al Aqsa Mosque, which led to clashes wi
Dec 22,2017
AMMAN — Social media users on Thursday called for the release of 16-year old Palestinian girl Ahed Tamimi who was arrested by the Israeli oc
Newsletter
Get top stories and blog posts emailed to you each day.