You are here
'Israeli occupation hindering Jordan-led maintenance projects at Al Aqsa'
By Dana Al Emam - Mar 24,2014 - Last updated at Mar 24,2014
AMMAN — The Israeli occupation is obstructing progress of the Kingdom's 13 maintenance projects at Al Aqsa Mosque complex, according to Awqaf Minister Hayel Dawood.
"The Kingdom's custodianship of holy sites in Jerusalem stands in the way of Israeli violations on the holy shrines," he said on Sunday, describing the role assigned to Jordan as "a hard one".
During a seminar on Jordan's custodianship of Jerusalem's Muslim and Christian sites at the Royal Cultural Centre, Dawood added that the Kingdom's responsibility towards the holy city dates back to the unification of Jordan and the West Bank in 1950.
"When the unification was dissolved in 1988, there was an agreement on sustaining Jordan's legal, administrative and religious sovereignty over holy sites in Jerusalem, but political sovereignty remained in the hands of the occupation forces," he said.
Ekrima Sabri, former grand mufti of Jerusalem and imam of Al Aqsa Mosque, highlighted Jordan's "strong stances and continuous support" for holy sites in Jerusalem in spite of little Arab and Islamic attention.
"Israeli parties and groups are taking advantage of the fact that Arab and Muslim states are busy with their internal affairs, adding to that the division among Palestinians," he said at the event, which was organised by the Jerusalem Cultural Forum.
The "almost daily" attacks on Al Aqsa are organised by the Israeli government and the assailants are protected by occupation forces, Sabri said.
"A few days ago, a decision was issued allowing Jews to pray in Al Aqsa courtyards, which are part of the mosque," he said, adding that such acts aim to create a designated area for Jews in Al Haram Al Sharif, known to Jews as the Temple Mount.
At present, Muslim worshippers are only allowed entry to Islam's third holiest site at certain times.
Jerusalem Forum Director Ishaq Farhan said the recent Israeli attempts to remove Jordan's custodianship of Islamic and Christian sites in Jerusalem were designed to end Islamic sovereignty over Al Aqsa.
"Occupation forces regularly arrest Palestinians and fire live bullets and teargas bombs inside Al Aqsa," he said, adding that mosque guards cannot confront these attacks.
Ziyad Hasan, a researcher specialised in Jerusalem issues, noted that UN Security Council Resolution 252 supports Jordan's stance in rejecting Israel's sovereignty over Jerusalem.
Also, Security Council Resolution 271 called upon Israel to "refrain from causing any hindrance to the discharge of the established functions of the Supreme Muslim Council of Jerusalem", he said.
In March 2013, His Majesty King Abdullah and Palestinian President Mahmoud Abbas signed an agreement that reaffirmed the status of King Abdullah as the custodian of Muslim and Christian holy sites in Jerusalem.
Related Articles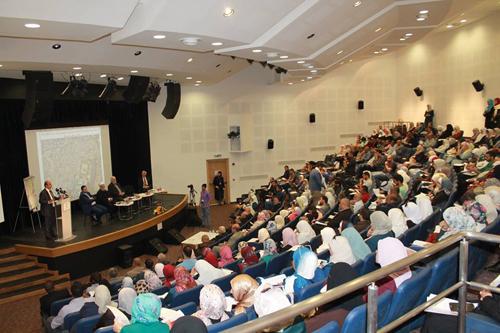 May 03,2016
AMMAN — Al Aqsa Mosque is a pure Islamic site that cannot be shared and divided, and any attempts to impose a status quo there are rejected
May 25,2017
AMMAN — The government on Wednesday condemned the Israeli occupation authorities for allowing Jewish extremists and settlers to break into A
Oct 15,2016
AMMAN – The government on Saturday described UNESCO's recent decision on Al Aqsa Mosque/Al Haram Al Sharif in East Jerusalem as a political
Newsletter
Get top stories and blog posts emailed to you each day.