You are here
Italian priests, tour guides visit Jordan to boost religious tourism
By Suzanna Goussous - Jul 05,2016 - Last updated at Jul 05,2016
Members of an Italian delegation during a recent visit to religious sites in Jordan (Photo courtesy of Catholic Centre for Studies and Media)
AMMAN — An Italian delegation of priests, tour guides and church representatives visited Jordan earlier this week to boost religious tourism between the two countries.
The Italians were part of Opera Romana, the official sponsor for the Christian pilgrimage in Italy.
"Many Italian priests and religious people do not know Jordan as part of the holy land, they only know Petra as a site in the Kingdom. We try to promote Christian pilgrimage to Jordan," tour guide Nader Twal told The Jordan Times.
He added that the Ministry of Tourism, the Jordan Tourism Board and the Catholic Church have cooperated to set a schedule to promote Christian pilgrimage in Jordan.
"When pilgrims go on religious trips to the holy land, they go to Palestine and the occupied lands, and they then add one day to visit Jordan's Petra. Our role is to educate them on the places mentioned in the Bible located in Jordan," Twal explained.
"Jordan is the gate to the holy land. Just like four popes started their pilgrimage from Jordan, we should work on promoting the country as a main Christian tourist site," he added.
Twal said tour guides are explaining biblical verses to the Italian priests and pilgrims to inform them that religious stories happened in Jordan.
"We take pilgrims on a spiritual journey with their churches to show them the living history of the biblical verses," the tour guide continued.
As Catholic pilgrims head to Rome, the local tour guides and authorities aim to promote Jordan's sites for the upcoming year.
Earlier this month, priests from several churches around the Kingdom participated in a tour of Europe to promote Christian tourism in Jordan.
Father Rifaat Bader, the director of the Catholic Centre for Studies and Media in Amman, said churches make a bridge that links Jordan to European countries.
"We should recognise the importance of churches in boosting tourism and pilgrimage," he told The Jordan Times.
The highest number of pilgrims visiting Jordan was recorded in 2010, according to Bader, when thousands of Italian pilgrims came to the Kingdom.
He added the role of Jordanian churches is to promote Jordan as a safe destination, publicise holy sites in the Kingdom that were mentioned in the Bible, and to provide pilgrims with a suitable spiritual atmosphere during their journey.
Related Articles
Jun 21,2016
AMMAN — Harking back to a time when religious pilgrimage was the basis of tourism in many countries, Jordanian Christian leaders are travell
Oct 16,2016
MADABA — Officials, church representatives, tourists and pilgrims on Saturday attended the inauguration of the Moses Memorial on Mount Nebo,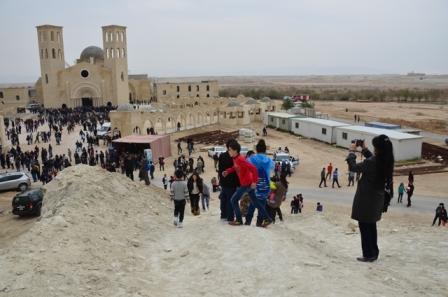 Jan 11,2014
Thousands of pilgrims from across the world prayed for peace and stability in the region during the Epiphany celebration at the Baptism Site on Friday.
Newsletter
Get top stories and blog posts emailed to you each day.