You are here
Japan-funded water project in Balqa marks completion
Phases 1 and 2 of project to improve water supply, quality for citizens
By JT - Dec 06,2019 - Last updated at Dec 06,2019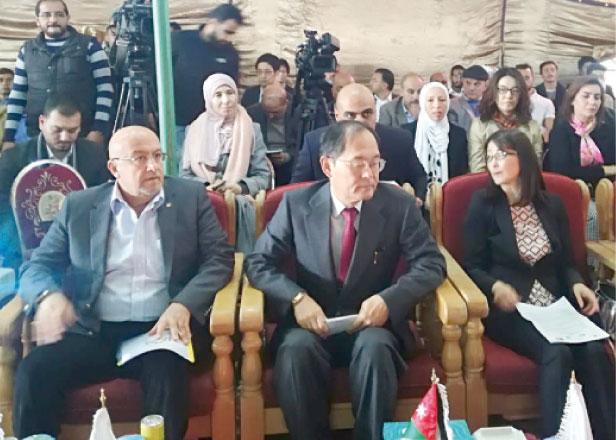 Japanese Ambassador to Jordan Hidenao Yanagi attends the completion ceremony of a water project in Balqa funded by the Japanese government, which was held at Maadi Reservoir in Deir Alla on Thursday (Petra photo)
AMMAN — A completion ceremony for the "Project for Rehabilitation and Expansion of the Water Networks in Balqa Governorate", funded by a $32.6 million grant from the Japanese government through the Japan International Cooperation Agency (JICA), was held at Maadi Reservoir in Deir Alla in Balqa Governorate on Thursday.
Attending the ceremony was Water Minister Raed Abul Saud, Japanese Ambassador to Jordan Hidenao Yanagi, Water Ministry Secretary General Ali Sobah and Chief Representative of the JICA Jordan Office Chie Miyahara, as well as a number of parliament members and mayors, according to a statement from the Water Ministry.
Saud said that phases 1 and 2 of the project will improve water supply and quality for citizens, especially in the Ain Al Basha and Deir Alla Maadi areas, expressing his appreciation for the continued Japanese support to the Kingdom's water sector.
At the completion ceremony, Yanagi expressed his gratitude to all the members involved in the project, stating: "The Government of Japan has long and continuously supported the water sector of Jordan. This project is one example of this long-standing cooperation between JICA and the Water Authority of Jordan."
He added that the total amount of Japanese grant assistance in the water sector until today is approximately $250 million, which includes funding for the "Improvement and Expansion of the Water Supply Networks in North/Middle Jordan Valley" project in Irbid and Balqa, which was completed in 2008, the statement said.
A number of mayors and community representatives also voiced their appreciation for the efforts of the Water Ministry as well as their appreciation for Japanese support and cooperation, read the statement.
The project aims to improve the state of water supply, to reduce water losses in the network and to decrease electricity consumption in Deir Alla and Ain Al Basha, where the water is supplied from the Zai Treatment Plant, which was expanded with a Japanese Grant Aid project totalling approximately $70 million in 2001.
This project installed 35.24 kilometres of pipes, constructed three reservoirs with a total capacity of 5,300 cubic metres and a pumping station and carried out related works. The expected number of beneficiaries of this project is around 264,000 people, the statement concluded.
up
10 users have voted, including you.
Newsletter
Get top stories and blog posts emailed to you each day.