You are here
JEPCO deals with 234 power failures due to rain
By Muath Freij - Nov 04,2014 - Last updated at Nov 04,2014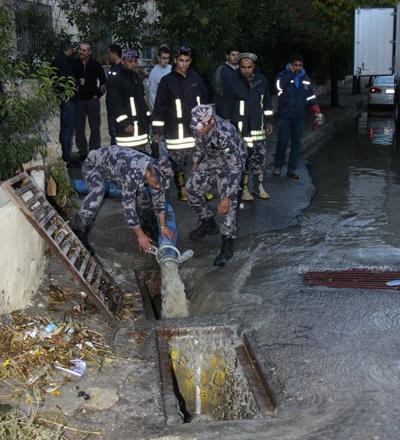 AMMAN – The Jordan Electric Power Company (JEPCO) dealt with around 234 power failures on Monday following heavy rainfall in the capital.
Raed Bali, head of JEPCO's monitoring department, said many subscribers complained about water leaking into electricity gauges, describing the number of complaints as "normal" compared to the number of total subscribers, who number around 1.2 million.
"Water accumulated in the basements of some buildings in Amman, causing electricity problems... so our teams, joined by Civil Defence Department (CDD) personnel, headed to these locations to tackle the problems," Bali told The Jordan Times over the phone on Tuesday.
The JEPCO official said the company — which distributes electricity to Amman, Zarqa, Salt and Madaba — first cuts off power supply to the area where the complaint was lodged to ensure the safety of residents.
When the affected building is identified, the power cut is limited to it and electricity is restored to neighbouring buildings.
"We cut off the electricity to also ensure the safety of our teams and CDD personnel," Bali added.
Neighbourhoods such as Jabal Amman, Sweifieh, 7th Circle and Khalda were the main areas covered by JEPCO teams, he noted.
Bali said there were nine power cuts in the distribution company's medium voltage network and 225 cases involving the low voltage network, and all were handled accordingly, with electricity restored to subscribers.
He expressed hope that contractors will install water pumps when they construct residential buildings so that water does not seep into electricity gauges.
The heavy rainfall the Kingdom witnessed on Monday was caused by a depression accompanied by a wet air mass, the impact of which started easing off on Tuesday, according to the Jordan Meteorological Department.
On Tuesday, Farouq Hiari, chief commissioner of the Energy and Minerals Regulatory Commission, visited some of the locations that required maintenance by JEPCO teams and checked on the procedures they implemented to address power failures, the Jordan News Agency, Petra, reported.
Hiari stressed the need to remain on full alert to deal with any future weather-related power outages, commending JEPCO's teams for their efforts, according to Petra.
Related Articles
Jul 20,2015
AMMAN — The Jordanian Electric Power Company (JEPCO) received around 1,000 calls and dealt with 120 electricity failures during the past thr
Jun 01,2014
Workers at the Jordanian Electric Power Company (JEPCO) staged a sit-in on Sunday in front of Parliament, demanding that the Lower House urge JEPCO's administration to meet their demands.
Oct 04,2017
AMMAN — The Jordanian Electric Power Company (JEPCO), the Energy and Minerals Regulatory Commission (EMRC) and a joint force of public secur
Newsletter
Get top stories and blog posts emailed to you each day.