You are here
Jerash popularity on the rise as tourists' 'must-see' destination
By Ahmed Bani Mustafa - May 06,2018 - Last updated at May 06,2018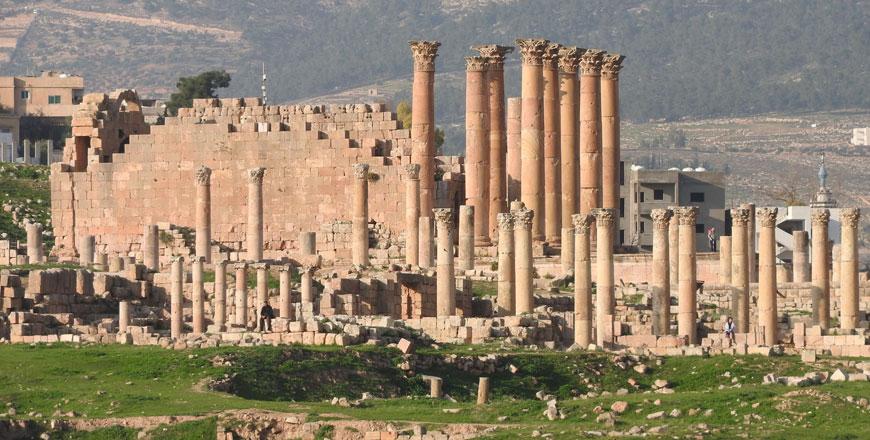 Jerash, one-hour drive to the north of Amman, has become an important touristic site in the Kingdom (File photo)
AMMAN — Jerash is garnering a reputation as a "must see" destination for international visitors to the Kingdom, thanks to collective efforts by stakeholders, according to a tourism expert.
In April, Jerash recorded a 100 per cent hike in the number of visitors compared to the same month of 2017, Jerash antiquities director Ziad Ghunimat said.
The number of visitors from all nationalities in April reached 39,000 with entry-ticket revenues reaching JD265, 675, compared with 23,150 visitors in April 2017 and JD133, 175 in ticket revenues, according to Ghunimat.
Yousef Zreiqat, a tourism expert, said that Jerash, located one-hour drive to the north of Amman, used to be excluded from most touristic itineraries as visitors were not very keen on visiting the site.
"The way the ancient city was promoted did not represent it as the special Roman city it is in terms of preservation and diversity of cultures," Zreiqat told The Jordan Times.
Jerash the "Pompeii of the East" is considered one of the most complete Roman cities in the world and has monuments that were built by many civilisations including Greeks, Romans, Byzantines, Umayyad, Abbasids, Ottomans and more, Zreiqat said, adding that "the Roman era was the golden age of the city, but it was only one among many civilisations that settled in it over thousands of years".
"Touring the archaeological park of Jerash, a visitor can see Greco-Roman temples, over 15 Christian churches, a synagogue and two 8th century mosques," the expert said.
He called on stakeholders to improve the promotion of the ancient city based on deeper understanding of the city's significance.
Sleiman Abu Dalu, a travel agent, said that most international travel agencies have started to include Jerash in their trips upon clients' requests.
"When my clients arrive to the archaeological site, they carry little expectations, but they are usually surprised by the uniqueness and size of the preserved city," tourist guide Amer Nizami said.
Related Articles
Feb 12,2018
JERASH — The Jerash Greater Municipality is scheduled to initiate several development projects worth JD13 million to link Jerash's old and n
Mar 20,2018
JERASH — The Second Jerash Tourism Conference kicked off on Tuesday under the title "Tourism in Jerash, opportunities and challenges", aimin
Apr 02,2018
AMMAN — The total number of visitors to Petra and Jerash, Jordan's key tourist destinations, increased during March by around 50 per cent, c
Newsletter
Get top stories and blog posts emailed to you each day.