You are here
JHCO continues fundraising for Rohingya refugees in Bangladesh
By Mina Mohit - Oct 26,2017 - Last updated at Oct 28,2017
Boduuzzol Kharun, 97, is carried by her family members as they arrive at a port after crossing the Bangladesh-Myanmar border, in Teknaf (Reuters photo)
AMMAN — The Jordan Hashemite Charity Organisation (JHCO), in cooperation with the Professional Associations Complex, is continuing its fund raising campaign for the Rohingya Muslims in Bangladesh who fled Myanmar in fear of persecution.
According to the International Organisation of Migration (IOM), over 600,000 Rohingya have fled Myanmar to neighbouring Bangladesh since mid-August, due to ethnic tensions and violence perpetrated by the government.
"It's just too sad, too disastrous to look away," said Shahd Anani, head of public relations at JHCO, explaining why the Kingdom started the initiative.
Anani said that the relief campaign, which was launched under the instructions of His Majesty King Abdullah, is a national movement triggered by the "duty for us to be there in times of humanitarian crisis".
"That's why we have collaborated with trade unions. All associations, whether they are vets, pharmacists, artists, actors, lawyers or journalists, everyone is involved in this campaign with us," she told The Jordan Times in a phone interview.
The organisation has also reached out to schools, shopping malls, as well as religious leaders to broaden their outreach.
"Last Friday, we had imams talking about the plight of the Rohingyas during their sermon at the mosque and ways to donate," Anani said, adding "people should help the Rohingyas, not just because they are Muslims, but because they are humans."
Majed Tabbaa, president of Jordan Engineers Association, shared a similar sentiment. "It is a humanitarian issue, and no matter what is happening in our own country, we must help them," he told The Jordan Times over the phone.
Earlier this week, Her Majesty Queen Rania visited Rohingya refugee camps in Cox's Bazar in Bangladesh. During a press conference at Kutupalong Refugee Camp, she condemned the torture perpetrated against the oppressed minority and called on the international community to respond "effectively, quickly, and generously".
JHCO's campaign, which will run through December 24, was launched with the support of the Social Development Ministry and is only accepting cash donations. Donors are encouraged to deposit their contributions at the Jordan Islamic Bank account No. 49992. For all other inquires, they can contact the JHCO through 0796329047 or 0775520087.
up
38 users have voted, including you.
Related Articles
Nov 20,2017
AMMAN — The Rohingya Relief Campaign on Monday distributed the second batch of aid under the campaign implemented by the Jordan Hashemite Ch
Nov 05,2017
AMMAN — The Follow-up Committee of the Rohingya Relief Campaign on Sunday discussed ways of dispatching emergency aid to the Rohingyas who a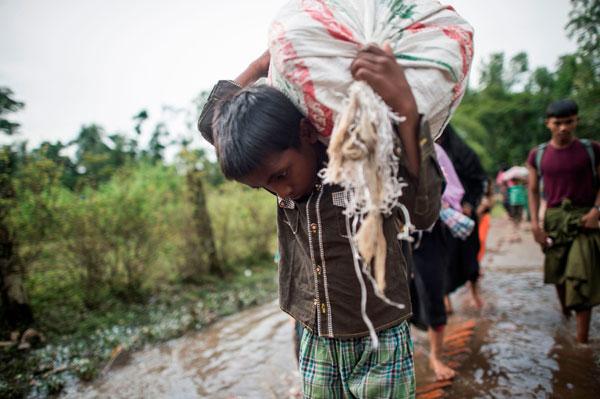 Oct 05,2017
COX'S BAZAR, Bangladesh — Bangladesh on Thursday announced it would build one of the world's biggest refugee camps to house all the 800,000-
Newsletter
Get top stories and blog posts emailed to you each day.