You are here
Jordan's film tourism strategy seeks to attract visitors
By JT - Aug 13,2017 - Last updated at Aug 13,2017
Jordan was the location for several well-known movies including 'The Martian' and 'Rogue One: A Star Wars Story' (File photo)
AMMAN — The Royal Film Commission (RFC) on Sunday launched Jordan's first film tourism strategy, set to guide efforts over the coming three years to attract more visitors to Jordan through cinema, a RFC statement said.
The strategy, launched under the patronage of HRH Princess Rym Ali, was developed in cooperation with the Jordan Tourism Board and supported by the USAID Building Economic Sustainability through Tourism Project (BEST).
Representatives from local tour operators and film production companies attended the one-day event, which included sessions on the latest global developments in film tourism and the success stories of countries like Denmark and the Czech Republic in attracting hundreds of thousands of tourists, as a result of shooting blockbuster films, according to the statement.
Discussions covered Jordan's film tourism strategy, as well as designing tourism itineraries around film locations, the statement said.
According to George David, RFC's managing director, the filmmaking business has generated around JD150 million and created 5,000 full-time jobs in Jordan in the past 10 years.
"The strategy will seek to promote Jordan by capitalising on it being the location where many well-known films were shot, including Lawrence of Arabia, Indiana Jones and the Last Crusade, The Martian, and Rogue One: A Star Wars Story," he was quoted in the statement as saying.
The director general of the Jordan Tourism Board, Abdul Razzaq Arabiyat, said in the statement: "The strategy was developed in consultation with film and tourism industry representatives and will capitalise on the huge potential of Jordan to become an international film destination."
He noted that blockbuster films help promote countries as tourist destinations, citing many examples of countries that witnessed a huge increase in tourists as a result.
In New Zealand, tourism soared to more than $3 billion in 2014 following the filming of The Hobbit franchise there, and Florida reported an almost 70 per cent increase in tourism thanks to the film Dolphin Tale, the statement read.
Arabiyat confirmed that the strategy was developed to help Jordan benefit from the opportunities that filming destinations have, as designing tour itineraries around film locations can attract more visitors.
He also noted that JTB has hosted many production companies from Hollywood and Bollywood in recent years, and has offered incentives to encourage more filming in Jordan. JTB also supported RFC's efforts to promote Jordan at international film festivals, including the Cannes Film Festival in France.
Ibrahim Osta, USAID BEST chief of party, said that film commissions compete to attract part of an $88 billion-dollar industry, which that yields deep direct and indirect economic benefits to filming destinations.
"USAID BEST is supporting Jordan's efforts to boost its international competitiveness, create new tourism jobs and distribute tourism revenues across the country through this film strategy, which lays out a clear path to attracting film productions and visitors," Osta was quoted in the statement as saying.
Related Articles
May 13,2015
The Jordan Tourism Board (JTB) on Wednesday hosted the inaugural meeting of the USAID-supported Jordan International Conferences Ambassador Programme.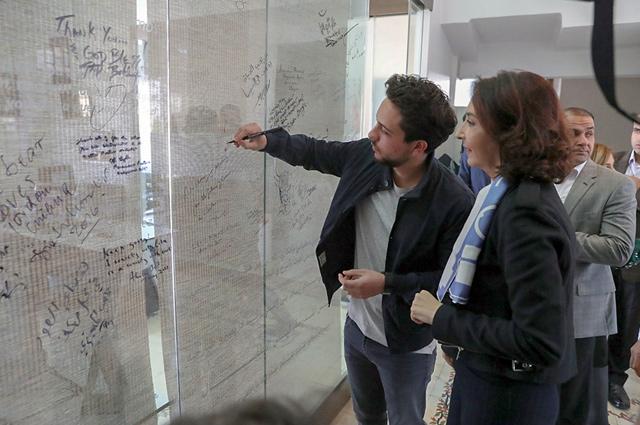 Dec 05,2018
AMMAN — HRH Crown Prince Hussein, the Regent, on Tuesday visited the Royal Film Commission (RFC) and reviewed its activities and services in
Jul 05,2022
AMMAN — Environment Minister Muawiyeh Radaideh on Monday met with CEO of the Royal Film Commission (RFC) Muhannad Bakri and discussed