You are here
Jordan's houses light up in celebration of holy month
By Muath Freij - May 21,2018 - Last updated at May 21,2018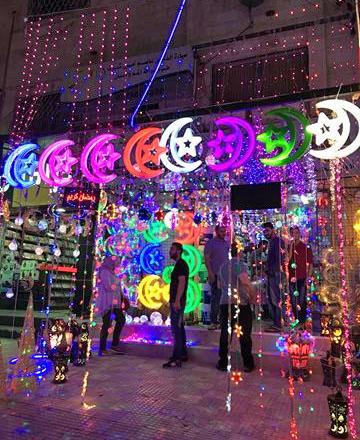 A wide range of illuminated decorations such as crescents, stars and lanterns are sold to decorate houses during the holy month of Ramadan (Photo by Muath Freij)
AMMAN — Jordanians are lighting up their houses and balconies with illuminated decorations to welcome the start of the holy month of Ramadan.
During the past years, these decorations have become a colourful tradition people like to follow to show their jubilation and enthusiasm towards Ramadan.
A number of tents have been erected in several neighbourhoods in Amman, where vendors sell a wide range of collections including illuminated crescents, stars and lanterns.
Zaher Saeed, one of the shopkeepers in Amman, said people's demand for decorations in the beginning was not as high as last year due to weather conditions and the start of the academic season.
"We have been selling these decorations for 12 years. Every year we prepare for Ramadan decoration one month ahead of Ramadan as we open 24 hours to receive customers. This year, it was not that good because there are exams and it was dusty and raining before Ramadan," he added.
Hamza Tabaa, another shopkeeper in west Amman, said the percentage of people decorating their houses has been on the rise every year.
"If you go out on the street you will notice that there are so many people decorating their houses. The demand for decorations at our store is not high because the competition is very high this year and there are many shops selling different kinds of decorations," he told The Jordan Times.
Tabaa said that although Jordanians suffer from difficult financial conditions, customers are still attached to this joyful tradition.
"Even if he comes to buy a JD2 illuminated item, he will not miss celebrating Ramadan," he added.
Anas Khuli, a private sector employee, said he is not interested in buying such items but the interest of his family prompts him to follow such a tradition.
"I describe them as a waste of money but my wife and son like to decorate the house so I support them," he added.
Manar Abudl Raheem, a mother of three, said she likes to buy these decorations because they symbolise joy and celebration of Ramadan.
"People in general feel over the moon when they see these illuminated decorations light up houses, streets and stores," she added.
Related Articles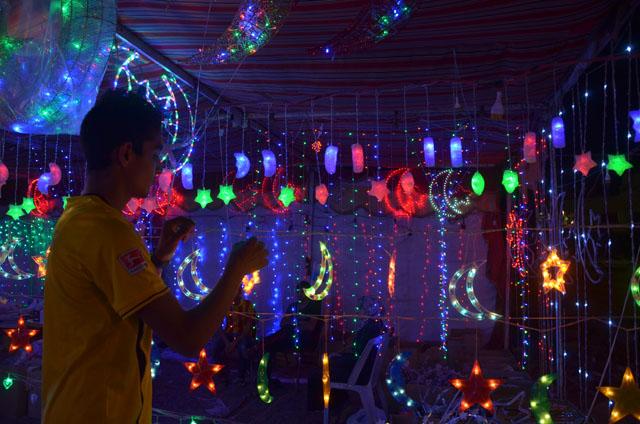 Jun 29,2014
Hussam Abu Rumman and his wife were looking intently at the Ramadan decorations on display at a tent in Amman, examining certain pieces more closely before deciding on which item they wanted.
May 25,2017
Once again the most joyful and spiritual time of the year for Muslims has arrived.An entire month of celebrations, festivities, delicious fo
Jun 01,2017
AMMAN — Illuminated decorations, crescents and stars have lit up downtown Amman in celebration of the holy month of Ramadan. The illumi
Newsletter
Get top stories and blog posts emailed to you each day.