You are here
Jordan's options open on Al Aqsa, King tells Muslim Council of Elders
By JT - Oct 08,2015 - Last updated at Oct 08,2015
AMMAN — His Majesty King Abdullah on Wednesday said in the event of continued Israeli violations against Al Aqsa Mosque and Al Haram Al Sharif, Jordan maintains legal and diplomatic options, according to a Royal Court statement.
At a meeting with members of the Muslim Council of Elders and in the presence of HRH Prince Ghazi, the King's personal envoy and adviser for religious and cultural affairs, the King said: "We are performing our duties towards Jerusalem in all possible ways and we will not be dissuaded from doing so by regional problems and crises."
Established during Ramadan in 2014, the Muslim Council of Elders works to promote peace within Muslim communities.
The King highlighted several challenges and methods to deal with extremists, terrorism and radicals. He also emphasised the need for a comprehensive strategy and intensive coordination mechanisms among the various concerned entities to combat the dangerous phenomenon of radicalisation and to arrive at a solution to the Syrian refugee issue.
The Monarch noted that the challenges facing the Middle East today are globalised and necessitate cooperative work at the security, military and economic levels to confront them. He stressed the need to build an international strategy against terrorism and radicalisation, safeguard Islam and address the rising trend of Islamophobia.
His Majesty told the council members that in order to achieve these goals, it is important that everyone defends the true teachings of Islam and counters "khawarej", Islam's religious outlaws.
The council members thanked the King for his work on boosting global and regional efforts, stressing their "respect for Al al-Bayt", the relatives of the Prophet Mohammad and their decendants. They also thanked him for his endeavours to protect Al Aqsa Mosque and Al Haram Al Sharif, stressing the need for a unified Arab stand to confront the various challenges facing the Ummah.
The meeting addressed various ways to boost the role of the council in dealing with regional issues and challenges facing the institution from West Africa to South East Asia, where it is involved in a mission to confront terrorism and build societies on proper ideological grounds.
At the meeting, Grand Imam of Al Azhar Al Sharif Sheikh Ahmad Al Tayyib underscored the role of religious institutions in clarifying the true tenets of Islam.
He expressed his great appreciation of the King's efforts in defending Islam and in countering those who try to distort its teachings.
The council comprises Muslim scholars, experts and dignitaries known for their being a voice of reason, sense of justice, independence and moderation, working together to promote peace, discourage infighting and address sources of conflict, divisiveness and fragmentation within Muslim communities.
Related Articles

Nov 04,2015
AMMAN — His Majesty King Abdullah on Wednesday stressed Jordan's support for Jerusalemites and their steadfastness against any Israeli viola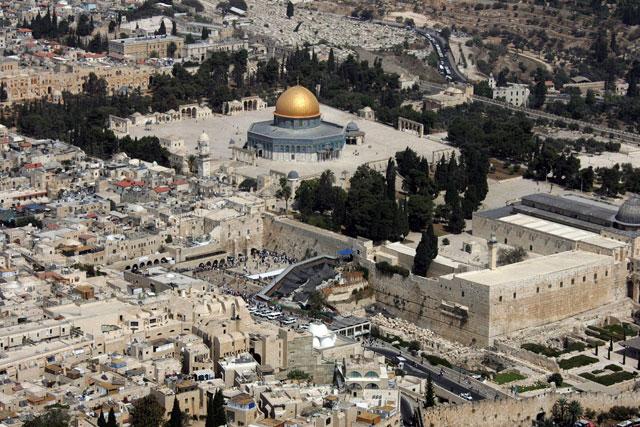 Oct 14,2016
AMMAN — UNESCO on Thursday adopted a decision that calls on Israel to allow the restoration of the historic status quo of Al Aqsa Mosque/Al
Mar 24,2014
The Israeli occupation is obstructing progress of the Kingdom's 13 maintenance projects at Al Aqsa Mosque complex, according to Awqaf Minister Hayel Dawood.
Newsletter
Get top stories and blog posts emailed to you each day.