You are here
Jordan businesses establish strong foothold in Kenya market
Anani opens Jordan Week in Nairobi on behalf of King
By JT - Dec 13,2016 - Last updated at Dec 13,2016
Deputy Prime Minister Jawad Anani (centre) inaugurates the Jordan Week in Nairobi, Kenya, Tuesday (Petra photo)
AMMAN — Deputising for His Majesty King Abdullah, Deputy Prime Minister for Economic Affairs and Minister of State for Investment Affairs Jawad Anani on Tuesday inaugurated in Nairobi, Kenya, the Jordan Week, with wide participation from the Kingdom's private sector.
Some 180 businesspeople and more than 60 Jordanian companies, representing the construction, mining, food, pharmaceutical, chemical, agricultural, Dead Sea products, hospital, ICT, engineering and electrical sectors, are taking part in the four-day week, the first of its kind for Jordan to be held in Africa.
The event, co-organised by the Jordan Investment Commission (JIC) and East Amman Industrial Investors Association (EAIIA), aims at finding new markets for Jordanian products through acquainting east African countries with the Kingdom's industrial and service products, the Jordan News Agency, Petra, reported.
Organisers also eyed bilateral meetings between representatives of the Jordanian private sector and their Kenyan, Tanzanian and Ugandan counterparts.
In a speech at the inauguration ceremony, Minister of Industry, Trade and Supply Yarub Qudah said that the activities aimed at boosting economic relations between Jordan and Kenya, and providing Kenyan products with an opportunity to benefit from the Kingdom's geographical location and penetrate regional and international markets.
Head of the Lower House's economy and investment committee MP Kheirallah Abu Seileek (Amman, 4th District) said the event is held at a time when the national economy is badly in need for alternative, untraditional markets, referring to the regional conflicts that affected Jordanian exports.
He also called for sustaining cooperation and coordination with the Kenyan public and private sectors, especially prior to a scheduled visit of a Kenyan delegation to Amman next March, adding that such efforts should be exerted through an effective Jordanian-Kenyan business council and fully activated bilateral agreements.
EAIIA Chairman Iyad Abu Haltam highlighted the importance of the activity week, which, he said, would increase cooperation ties between Jordanian investors and industrialists and their peers in eastern and central Africa.
He also referred to the investment opportunities that may interest Jordanian companies in these countries, which need to develop their infrastructures to help boost their national economies.
Abu Haltam reiterated the significance of building up economic and commercial ties between both countries on complementary bases, away from competitiveness, especially since "Kenya enjoys unique raw materials and Jordanian products are known for their high quality".
Kenyan Cabinet Secretary for Ministry of Industry, Trade and Cooperatives Adan Mohamed praised Jordanian efforts to enhance economic relations with Kenya, noting that the big number of participating Jordanian businesspeople reflects the Kingdom's seriousness in developing bilateral ties.
There is a genuine political will in the Kenyan leadership to take economic ties with the Kingdom to a new level that allows larger commercial exchange, Mohamed added.
Chairperson of Kenya Investment Authority Anne Kirima-Muchoki delivered a speech in which she highlighted the importance of institutionalising bilateral economic ties, speeding up the development of commercial exchange and benefiting from Jordanian expertise in the ICT, health, banking, agricultural and pharmaceutical sectors.
On the sidelines of the event, Anani attended the signing of agreements and memoranda of understanding between Jordan and Kenya in several sectors.
JIC President Thabet Elwir and Kirima-Muchoki signed a memo that aims at stimulating and facilitating investment and trade exchange between Amman and Nairobi.
The deal is expected to improve the business environment and acquaint businesspeople in both countries with available investment opportunities, Elwir said.
Jordan Chamber of Industry President Adnan Abul Ragheb and Kenya National Chamber of Commerce and Industry Chairman Kiprono Kittony signed an agreement to boost cooperation between the two chambers, develop business entrepreneurship initiatives and facilitate direct communication between commercial institutions.
Abul Ragheb noted that the agreement also aims at exchanging economic, legal and technical information related to economic development and investment incentives.
Firas Hindawi, marketing manager at the Royal Jordanian Aviation Academy, and director general of the Kenya Civil Aviation Authority Gilbert Kibe signed an agreement aimed to launch cooperation in the field of aviation training.
Hindawi said the deal also includes implementing joint programmes on safety monitoring, airplane maintenance and expertise exchange.
The week also saw the signing of trade deals between Maani Investment Group and a Kenyan company interested in buying furniture from the Jordanian peer, a second by Petra Company to sell calcium carbonate and a third worth $50 million, signed by Al Kbous Group to buy Kenyan tea from a local company.
Related Articles
Dec 17,2016
AMMAN — The Jordan Week held in Nairobi, Kenya, concluded on Saturday, with a wide participation of Jordanian industrial, agricultural and s
Aug 16,2017
AMMAN — His Majesty King Abdullah on Wednesday congratulated Kenyan President Uhuru Kenyatta on his reelection as President of the Republic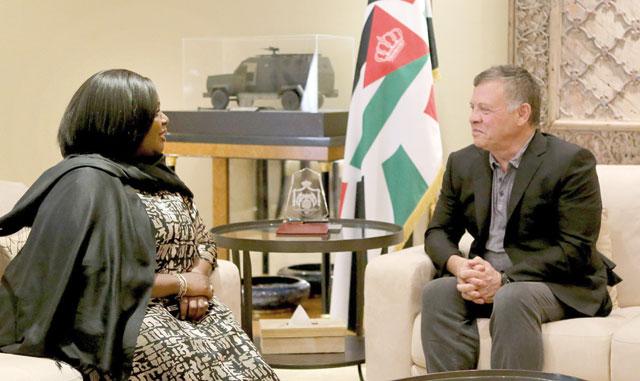 Oct 10,2017
AMMAN — His Majesty King Abdullah on Tuesday received Kenyan Defence Minister Raychelle Omamo and discussed mechanisms to enhance cooperatio
Newsletter
Get top stories and blog posts emailed to you each day.