You are here
Jordan cannot take any more Syrian refugees — officials
As Syria offensive in south gains momentum, thousands flee to makeshift camps near border
By Mohammad Ghazal - Jun 25,2018 - Last updated at Jun 25,2018
Smoke rises after Syrian forces carried out an attack in Syria's southwestern Daraa province on Saturday (Anadolu Agency photo)
AMMAN — Jordan warned on Sunday that it cannot receive more Syrian refugees, saying it was intensifying talks with the US and Russia following air strikes on rebel-held towns in southern Syria.
"We have received enough numbers of Syrian refugees; we already have a large number and we simply cannot receive more," Minister of State for Media Affairs Jumana Ghunaimat told The Jordan Times over the phone on Sunday.
"We are following up closely on the situation in southern Syria, and we are working with the Americans and the Russians to reach a deal to protect our national interests," the minister said.
It is in Jordan's interests to maintain the de-escalation zone, which was created following a tripartite deal between Jordan, the US and Russia last year, Ghunaimat said.
She noted that Jordan is already hosting 1.3 million Syrian refugees and will not abandon its humanitarian duty towards them.
Also on Sunday, Minister of Foreign Affairs Ayman Safadi urged all parties to uphold ceasefire in south Syria to avert new catastrophe in a tweet on his official Twitter account.
The officials' remarks came a few hours after thousands of Syrians started fleeing to makeshift camps near Jordan border as bombing escalated in south of Syria.
Safadi stressed that the solution to the crisis in Syria is a political one and focus must be on reaching it.
"Jordan is doing all it can to meet needs of 1.3 million Syrians. It cannot host more and the consequences of new escalation are the responsibility of those behind it," said Safadi.
According to Agence France-Presse, the countries involved in the tripartite deal on the de-escalation zone are in talks now to reach a negotiated settlement for the south that could head off a bloody regime assault as Assad said his troops would have no choice but to take the south by force if those talks failed.
Although the offensive in south Syria has not started yet in full force, Syrian regime troops have already captured four villages in the south where 13 regime forces have been killed in the fighting, as well as 15 rebels, the Syrian Observatory for Human Rights said, according to AFP.
Many of those rebels have previously received backing from the US, but Washington has warned them that they should not expect American help should the regime start a new assault, the news agency reported.
A wave of air strikes on rebel towns in southern Syria on Sunday killed at least five civilians and put a hospital temporarily out of service, a monitor told AFP.
The observatory blamed the bombing raids on regime ally Russia, according to AFP.
"Five civilians including two women were killed on Sunday in Russian strikes on the towns of Al Herak, Al Sura, and Alma," Rami Abdel Rahman, the head of the Britain-based monitor, told AFP, including that the raids on Al Herak hit near a hospital, damaging it and forcing its medical staff to shut it down at least temporarily.
The three rebel-held towns are located in the southern province of Daraa, known widely as the cradle of Syria's seven-year uprising, according to AFP.
Daraa and the adjacent province of Quneitra are mostly still held by opposition forces, but army troops appear to be preparing a ground assault to retake them, AFP reported.
Army troops have been escalating their air strikes, artillery fire and use of deadly barrel bombs on rebel territory and on Saturday made their first gains on the ground, according to AFP.
Later that evening, Russia began bombing rebel towns in Daraa for the first time since brokering a truce there with the US and Jordan in mid-2017, AFP reported.
A total of 23 civilians have been killed in opposition areas since the escalation began on Tuesday, according to the observatory, reported AFP.
On Sunday, a girl was killed and three people were wounded in rebel fire on government-held districts of the city of Suweida, Syria's state news agency SANA said, according to AFP.
Rebel forces are also firing rockets and mortars into regime territory, AFP reported.
Related Articles
Jun 26,2018
DARAA, Syria — Syria's government ramped up its bombardment of the southern city of Daraa on Monday, forcing dozens of families to flee an e
Apr 15,2018
BEIRUT, Lebanon — The capture of Eastern Ghouta is a significant milestone for Syria's regime and paves the way for government troops to shi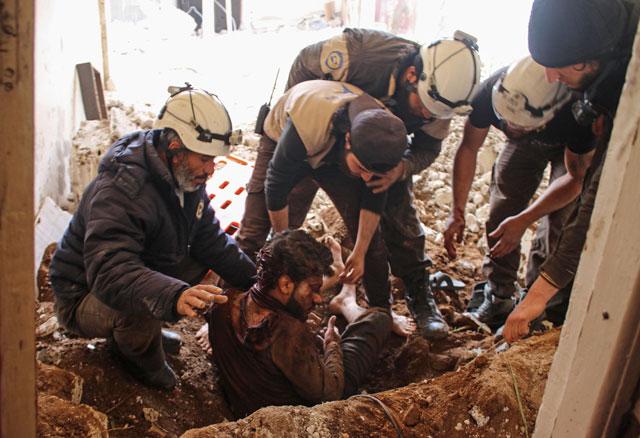 Jul 24,2018
DARAA — More than a dozen White Helmets rescue workers demonstrated Tuesday in Syria's Daraa city to demand safe passage out of the country'
Newsletter
Get top stories and blog posts emailed to you each day.