You are here
'Jordan Codices' proven fake — DoA
By Ahmed Bani Mustafa - Apr 07,2018 - Last updated at Apr 07,2018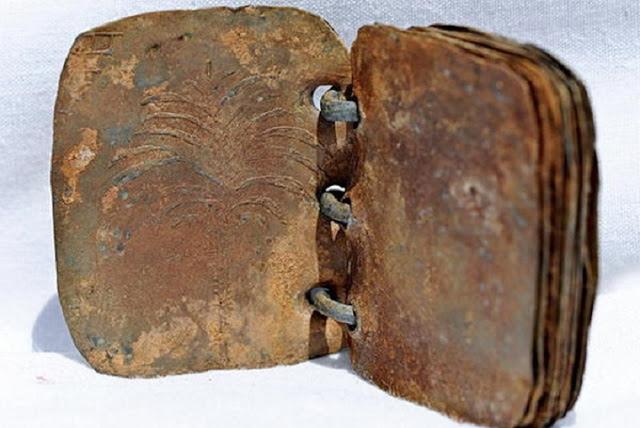 Lead codices may have old materials but the inscriptions inside were proven fake and irrelevant, Jordanian experts have said (Photo courtesy of archaeologynewsnetwork.blogspot.com)
AMMAN — The Department of Antiquities (DoA) has announced that the lead codices allegedly found in a northern Jordan cave between 2005-2007 have been proven forged.
The codices, comprised of more than 70 ring-bound books entirely made of lead, were reportedly found in a remote valley over a decade ago.
The DoA Director General Monther Jamhawi said that the codices are a kind of "professional" forgery that was executed skillfully.
"This advanced counterfeit has created confusion as ancient materials were used, such as lead and stones, and inscribing them with ancient look-alike texts and drawings that are hard to be tested," Jamhawi told The Jordan Times on Saturday.
The official said that this case had attracted the attention of international and local media and as well as a number of researchers and enthusiasts, who relied only on initial laboratory tests of the materials, which had been found authentic.
In response, the DoA issued a press release on March 9, 2017, in which it confirmed that the items needed further examining to ensure the authenticity of the writings and drawings apart from the materials, said the director.
The department formed a committee of researchers and epigraphists, who examined the books and confirmed that they were not authentic.
In its report, the taskforce concluded that the examination from an archaeological point of view proved that the metal books were false and worthless as they contained "irrelevant old letters and images" and that the manufacturer had no background about ancient inscriptions and their technical details or religious significance.
Also last year, the DoA formed a national team of researchers and specialists that scanned the area of the cave where the codices were allegedly discovered but did not find any relevance between the codices and the cave, particularly as no cavities in the cave's walls were found.
At the time, the department described the findings of British scientist David Elkington as baseless, stressing that the cave was not found and the pictures he had, had nothing to do with the cave that was visited, which indicates that his insistence on the originality of the codices is baseless and uncredible.
David and Jennifer Elkington have led a campaign since 2009 to secure international recognition of the manuscripts, but other scholars, according to a BBC report, have also refuted their claims.
Related Articles
Mar 09,2017
AMMAN — The Department of Antiquities (DoA) on Thursday announced that the lead codices it seized with the help of security authorities arou
Dec 01,2016
AMMAN – Held as one of the most important discoveries in archaeological history, yet contested as "modern forgeries", codices discovered in
Feb 07,2014
Police and Department of Antiquities (DoA) officials on Thursday announced the arrest of a man in Amman who reportedly attempted to sell a statue and other ancient artefacts believed to belong to the Roman and Byzantine periods.
Newsletter
Get top stories and blog posts emailed to you each day.