You are here
Jordan committed to better ties with Morocco — King
Mar 02,2014 - Last updated at Mar 02,2014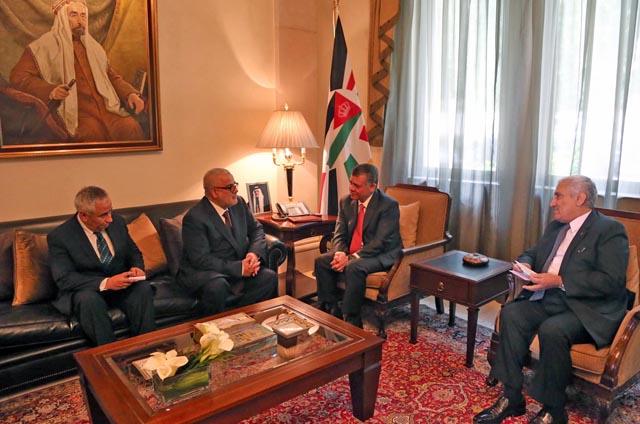 AMMAN — His Majesty King Abdullah on Sunday underlined Jordan's commitment to further improving cooperation with Morocco in all areas.
At a meeting with Moroccan Prime Minister Abdelilah Benkirane, King Abdullah called for activating the work of the Joint Jordanian-Moroccan Higher Committee, according to a Royal Court statement.
Talks also covered the efforts to bring about peace in the Middle East that should lead to the establishment of a viable and independent Palestinian state on Palestinian national soil with East Jerusalem as its capital, in line with the two-state solution and the international terms of reference, especially the 2002 Arab Peace Initiative.
Regarding the situation in Syria, King Abdullah reiterated Jordan's stance in supporting a comprehensive political resolution to the crisis that would end the bloodshed and preserve the unity and cohesion of the country.
The King highlighted the burden Jordan is enduring due to hosting a large number of Syrian refugees, according to the Royal Court.
Also on Sunday, Senate President Abdur-Ra'uf S. Rawabdeh met with Benkirane, stressing that Jordan and Morocco enjoy "an advanced level of relations", the Jordan News Agency, Petra, reported.
He lauded the peaceful approach both kingdoms adopted in dealing with the opposition, as both are widely seen as survivors of the Arab Spring.
Rawabdeh praised the experience of the Justice and Development Party in Morocco, describing it as a new phenomenon in Islamist partisan work that can serve as a model to follow.
Benkirane also praised the "special relations" between the two countries, underlining the similar conditions they have both experienced and reaffirming his country's keenness on strengthening bilateral cooperation at all levels.
Related Articles
Mar 01,2014
Prime Minister Abdullah Ensour and his Moroccan counterpart Abdelilah Benkirane on Saturday discussed means to boost cooperation in extracting and marketing phosphate. 
Mar 23,2017
AMMAN — His Majesty King Abdullah on Thursday discussed bilateral relations and the situation in the Middle East with King Mohammed VI of Mo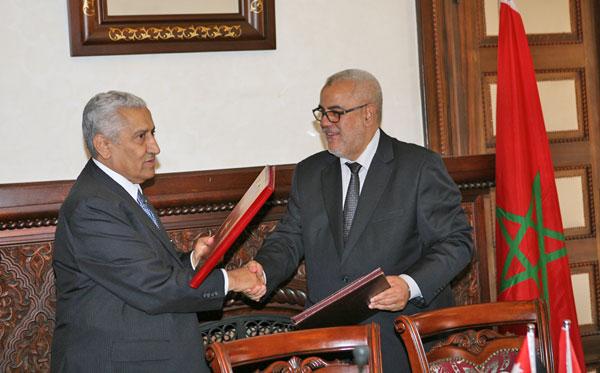 Apr 23,2016
AMMAN — Prime Minister Abdullah Ensour and his Moroccan counterpart Abdelilah Benkirane on Friday chaired the fifth session of the joint Jor
Newsletter
Get top stories and blog posts emailed to you each day.