You are here
Jordan condemns Israel closure of Al Aqsa, warns of consequences
By JT - Oct 02,2015 - Last updated at Oct 02,2015
Israeli forces arrest a Palestinian woman in the Old City of Jerusalem on Wednesday (AP photo by Mahmoud Illean)
AMMAN — Jordan on Thursday condemned the continued closure of Al Aqsa Mosque in Jerusalem by the Israeli forces and its detaining of worshippers.
Government Spokesperson and Minister of State for Media Affairs and Communications Mohammad Momani said the Jordanian government is "angered" by the Israeli violations and this unprecedented aggression motivated by the Jewish holidays.
Momani said Jordan rejects both the geographical and time-based divisions of Al Aqsa.
The Israeli forces on Thursday resumed their military-imposed closure of Al Aqsa Mosque in Jerusalem, allowing Jewish settlers to tour Al Haram Al Sharif compound.
The Israeli forces restricted entry for Muslim men and women under 50, the Jordan News Agency, Petra, reported.
Momani warned Israel of the consequences of such an unprecedented threat that cannot be accepted by any Muslim.
He said this breach comes in violation of international laws and conventions that compel an occupier to maintain the status quo in an occupied territory.
Momani warned that these escalations by Israel push the region towards "ominous confrontations" and create a fertile ground for radical forces.
He pointed that Jordan can and will exert all diplomatic and legal efforts to make Israel stop its flagrant violations.
The Israeli forces chased women and dragged them away from the mosque's gates towards Damascus Gate, one of the oldest gates in Jerusalem, threatening to arrest and banish them from the holy city, a statement from the Awqaf Ministry in Jerusalem said.
During the Jewish celebration of Sukkot festivities, the Israeli forces imposed a firm closure of the mosque and allowed only those who are over 50 years old to enter during the settlers' raiding period which lasts every day until noon prayer.
Tens of Jerusalemite worshippers had to perform dawn prayer on the streets and roads near barricades placed by the Israelis near Al Aqsa Mosque's gates.
Moreover, the occupation forces set up more barricades and spread patrols around the city as well as a huge number of special units, known as border guards.
Related Articles
Mar 17,2014
Jordan on Monday condemned the Israeli occupation troops' closure of Al Aqsa Mosque gates and preventing worshippers and awqaf administration members from entering the mosque's complex.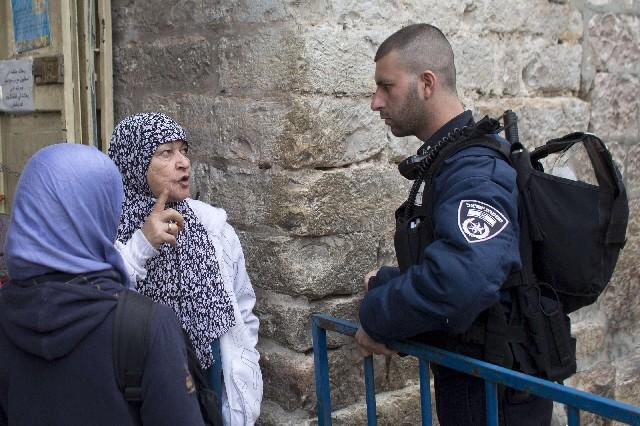 Mar 19,2014
Under the protection of Israeli security members, dozens of Jewish settlers on Wednesday entered Al Haram Al Sharif through Bab Al Magharbeh for the second day in a row, according to the Awqaf and Islamic Affairs Department in Jerusalem.
Jul 05,2014
The government on Saturday denounced the closure of the gates of the Old City of Jerusalem by Israeli occupation authorities and preventing Muslim worshippers from reaching Al Aqsa Mosque on the first Friday of the holy month of Ramadan. 
Newsletter
Get top stories and blog posts emailed to you each day.