You are here
Jordan drops 12 spots in World Energy Council Index
By JT - Feb 10,2018 - Last updated at Feb 10,2018
AMMAN — Jordan's ranking in the World Energy Council's Trilemma 2017 Index dropped to 87 out of 125 countries compared to 75 in 2016, the Jordan News Agency, Petra, reported on Saturday.
The index ranks countries on their ability to provide sustainable energy through three dimensions: energy security, energy equity (accessibility and affordability) and environmental sustainability, according to the Trilemma Index website.
The Jordan Strategy Forum (JSF) attributed the drop to Jordan's decline in the energy equity. The Kingdom was placed on the 56th rank, compared with 52nd in the previous version of the index.
Meanwhile, the Kingdom dropped to the 121st place in the energy security category, down from 106 the previous year. However, it improved four ranks in the environmental sustainability, up to 78, Petra reported.
The ranking measures overall performance in achieving a sustainable mix of policies with the balance score highlighting how well a country is managing the trade-offs of the Trilemma, with "A" being the best.
According to JSF, the general drop is due to the decline in the energy security sub-category, which resulted from the instability of the available amounts of oil and natural gas. The forum also outlined the slowdown in diversifying energy resources, especially renewable and clean energy resources and the recurrent attacks on power grids as causes for the decline.
As for the improvement in the environmental sustainability category, JSF attributed it to producing energy from environment-friendly resources through the use of wind, solar and nuclear energies, in addition to enacting laws that encourage the use of electric vehicles.
Related Articles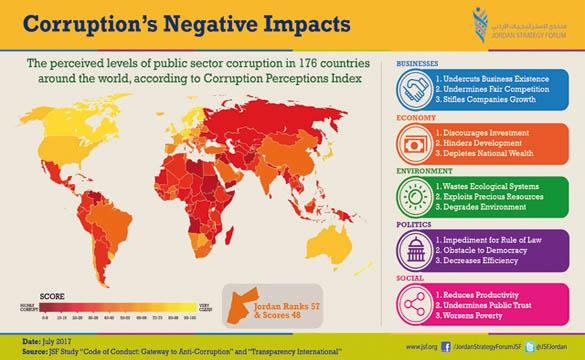 Jul 20,2017
AMMAN — The Jordan Strategy Forum (JSF) has recently published a study titled "Code of Conduct: Gateway to Anti-Corruption". The study
Dec 30,2014
Jordan ranked 60th among 178 countries on the Environmental Performance Index (EPI) 2014, with an overall score of 55.68 per cent.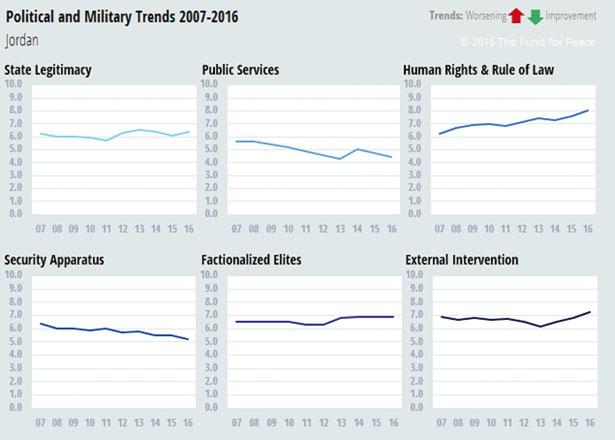 Nov 12,2016
AMMAN — Jordan has dropped four places on the Fragile States Index in the "elevated warning" group compared with its ranking in 2015.Jordan,
Newsletter
Get top stories and blog posts emailed to you each day.