You are here
'Jordan Education for Employment' programme aiding youth to find jobs
By Laila Azzeh - Apr 05,2017 - Last updated at Apr 05,2017
AMMAN – For Amer, Sandi and Mohammad, finding an employment organisation dedicated to catering to the needs of fresh graduates and equipping them to enter the labour market made a world of difference.
Similar to hundreds of thousands of Jordanians who graduate from universities in different specialisations, they found it difficult to find job opportunities in their field of study, mostly due to their lack of basic skills.
"I did not know at the time how to market myself and show my abilities, especially during interviews," said one of the beneficiaries of the Jordan Education for Employment (JEFE), a youth employment organisation affiliated with the Education for Employment (EFE) Network.
For about three years after graduating in hospitality management, Sandi Haddad said she had given up hope of working in her field of study, before deciding to take a different approach and enrolling on one of the JEFE programmes sponsored by Al Waleed Philanthropies.
"After leaving home to work in hospitality industry, which I have always been passionate about, I became a teacher for around two-and-a-half years, but I then decided to pursue my dream and it took me a while until I found a course with JEFE that refreshed my knowledge," she said on Tuesday.
Haddad is now the housekeeping manager at a five-star hotel.
At an event held to celebrate the efforts of EFE and its supporters, attended by HRH Princess Rim Ali, youth and employment experts underlined that ambition and motivation are not what Jordanian youth lacks, but instead the skills that enable them to meet the competitive needs of the market.
"Unemployment in Jordan is still high; almost twice the global average. According to a 2014 ILO [International Labour Organisation] study, Jordan's youth face numerous challenges when it comes to moving from education to the workplace," said Mohammad Bataineh, CEO of Agri-Jordan and chairman of the American Chamber of Commerce.
Bataineh cited another survey conducted by the Department of Statistics that showed that approximately 60 per cent of youth in Jordan are inactive or not in the labour force, making the transition from school to the workplace extremely lengthy.
"Youth often takes up to three years to find stable or satisfactory employment, if at all. The total unemployment rate in 2016 is about 15.8 per cent; 13.8 per cent [among] men and 25.2 per cent for women," he noted, adding that the Kingdom's official unemployment rate hovers around 30 per cent, while 85 per cent of women in all age groups are not participating in the local labour force.
Bataineh highlighted that around 80,000 jobs are needed to be created each year in the Kingdom to avoid high levels of unemployment and poverty.
Senator Samir Murad, JEFE chairman, noted that "we often hear about the employed and unemployed, but what we do not hear about is the vastly bigger number of the unemployable".
"The unemployable are people who have gotten to a certain place in life where they do not have the necessary skill set to get the job, whether because they were not fortunate enough to go through a certain educational journey, or because the educational path they took was not able to provide them with the necessary skills for the job," he said.
He noted that JEFE provides a "tactical" training and job matching.
"We go to employers and understand what they need in terms of human resource requirements and at the organisation we develop the necessary training… when youth is placed in these jobs, they are able to perform and deliver, creating a win-win situation," said Murad.
More than 200 leaders in the private, public, education and civil society sectors took part in Tuesday's event, which focused on innovative solutions for youth employment amid changes to the nature of work.
Discussions also covered the significance of creating economic and job opportunities and the role businesspeople can play in supporting such an endeavour.
Ron Bruder, founder of EFE, shared a briefing on the establishment of the organisation and how it flourished to become the leading network linking unemployed youth to tangible job opportunities in the Middle East and North Africa (MENA) region.
Mariam Farag, who leads Corporate Social Responsibility at MBC Group and is a member of the EFE-UAE Advisory Board, underlined the role that corporations like MBC and others can play in generating employment opportunities for youth.
In celebration of EFE's ten-year anniversary, which coincided with the establishment of JEFE, she announced the start of EFE's "FirstJob: A Step to Your Dream" campaign.
The year-long regional campaign, in partnership with MBC Al Amal and other partners, will highlight inspirational "first job" stories from business leaders and EFE alumni to boost opportunities available to youth.
Over 2,300 companies, foundations, government ministries and education institutions partner with the EFE Network.
Tuesday's event was held as part of a week-long series of workshops and activities aimed at enhancing economic opportunities for youth in the MENA.
Attendees of the week-long event are focusing on strategies for youth employment, as well as innovations in the use of technology to enhance the reach of job training and placement programmes offered across the MENA region by EFE.
Related Articles
Nov 22,2016
AMMAN — The Jordan Education for Employment (EFE) organisation has launched a training programme for unemployed youths in Amman in partnersh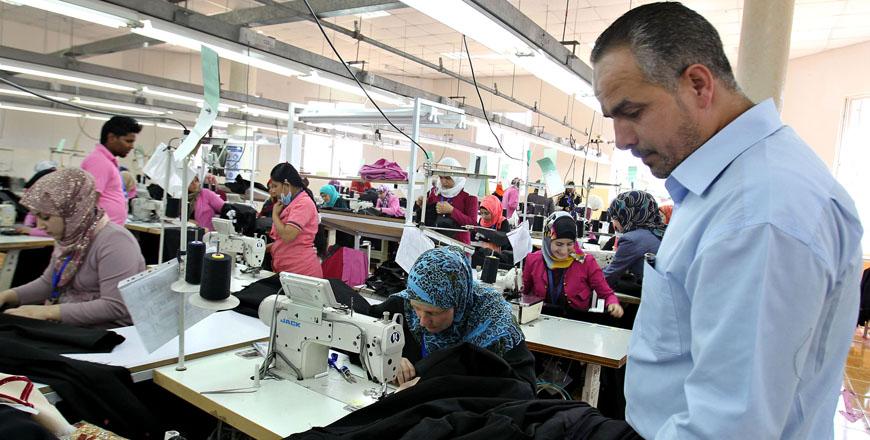 May 22,2015
KITTEH, Jordan — Fawziyeh Sharif and dozens of other young women who make jeans for the US market in a factory in this village in northern J
Jan 02,2018
AMMAN — Jordan Education for Employment (JEFE) and USAID, through their Jordan Competitiveness Programme, on Sunday held a graduation ceremo
Newsletter
Get top stories and blog posts emailed to you each day.