You are here
Jordan, Egypt coordinate stands on regional issues
King meets Sisi in Cairo, briefed on development projects
By JT - May 17,2017 - Last updated at May 17,2017
His Majesty King Abdullah meets with Egyptian President Abdel Fattah Al Sisi at the Heliopolis Palace in Cairo on Wednesday (Photo courtesy of Royal Court)
AMMAN — His Majesty King Abdullah on Wednesday held talks with Egyptian President Abdel Fattah Al Sisi in Cairo, which focused on ways to boost bilateral relations and regional developments, according to a Royal Court statement.
The two leaders had a one-on-one meeting at the Heliopolis Palace followed by expanded talks attended by senior officials from both sides, during which new development projects in Egypt were showcased, including the new administrative capital.
During their talks, the two leaders highlighted the importance of reaching political solutions to the crises in the region to achieve security and stability for the people.
In this regard, the King highlighted the pivotal role Egypt is playing to serve Arab causes and he agreed with Sisi on the need to proceed with efforts aimed at unifying Arab stances, especially in light of Jordan's role as the president of the Arab summit in boosting joint Arab action to overcome challenges and crises facing the broader Arab nation.
The two leaders also highlighted the importance of reviving the Palestinian-Israeli peace process and negotiations to reach a two-state based solution in accordance with the Arab Peace Initiative and relevant international conventions.
The King and Sisi underlined the need to preserve the status quo in Jerusalem, warning that attempts to undermine it would result in dangerous repercussions on the stability and security of the entire region. His Majesty said that Jordan would continue its efforts to protect religious sanctuaries in Jerusalem as part of the Hashemite custodianship to preserve the city's Arab character.
His Majesty and the Egyptian president discussed regional developments in Syria, Iraq, Libya and Yemen.
The two leaders said it is important to intensify regional and international efforts to combat terrorism within a holistic strategy.
Sisi held a lunch banquet in honour of His Majesty and the accompanying delegation, which was attended by senior Egyptian officials.
The talks were attended by Prime Minister Hani Mulki, Royal Court Chief Fayez Tarawneh, Foreign Minister Ayman Safadi, General Intelligence Department Director Maj. Gen. Adnan Jundi, King's Office Director Jafar Hassan and King Adviser and National Policies Council Rapporteur Abdullah Wreikat, in addition to several Egyptian officials and officers.
HRH Prince Feisal was sworn in as Regent during the King's absence.
Related Articles
Jul 04,2019
AMMAN — Egyptian President Abdel Fattah El Sisi on Wednesday received Prime Minister Omar Razzaz, who conveyed His Majesty King Abdullah's g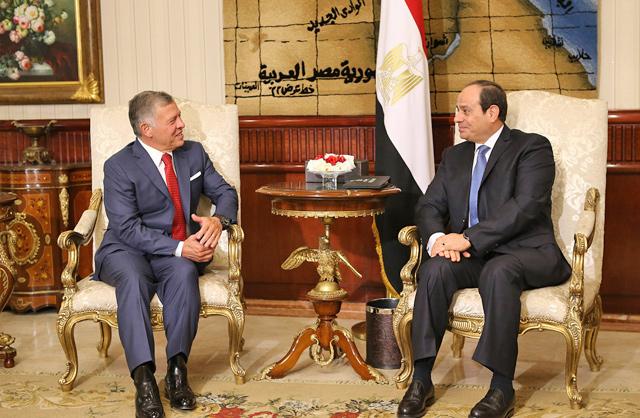 May 23,2018
AMMAN — His Majesty King Abdullah on Wednesday discussed with Egyptian President Abdel Fattah Sisi the developments in the Palestinian issue
Aug 26,2015
AMMAN — His Majesty King Abdullah on Wednesday returned home after concluding a three-day visit to Russia, a Royal Court statement said.Befo