You are here
Jordan has 'effective shields' against threat of radicals — experts
By Omar Obeidat - Jun 17,2014 - Last updated at Jun 17,2014
AMMAN – Jordan's military capabilities and social make-up are key factors the country can rely on to repel any threats by external enemies or extremist groups, military and strategic experts said.
In interviews with The Jordan Times over the phone Tuesday on possible threats from groups based in turmoil-hit Iraq and Syria, the experts said that the "highly professional" Jordan Armed Forces and security agencies are capable of protecting the Kingdom's long borders with both neighbours, which, according to pundits, are facing armed revolutions that could last for years.
Retired major generals and strategic analysts Mamoun Abu Nowar and Adeeb Sarayreh said that the media have exaggerated the size and the power of the Islamic State of Iraq and the Levant (ISIL) –– known in the region with its Arabic acronym "Daesh" –– which is fighting in Syria against Bashar Assad and in Iraq against the Shiite-led government of Nouri Al Maliki.
They stressed that the radical militant group cannot be a threat to Jordan.
Homogeneous society
The social make-up of Jordan is different from regional communities, which are divided along sectarian lines.
"In Jordan the Muslim population is only Sunni, so such extremists cannot find supporters or a base of support in Jordan," they said, explaining that the perceived exclusionism and marginalisation practised by the Maliki government against the Sunnis has pushed Sunni residents in Mosul, Anbar and other districts to revolt against the central government.
Residents of these areas have been willing to join any force fighting Maliki, describing what is happening in Iraq currently as a Sunni revolution eclipsed by media focus on ISIL.
Abu Nowar said there are other armed groups in Iraq that outnumber ISIL and are better equipped than Daesh, such as fighters from Sunni tribes, former army officers from the Saddam Hussein era and the Naqshabandi Army, a group of a Sufi background led by Izzat Al Douri — Saddam's former deputy.
ISIL is a danger to the entire region but the media have overrated its capabilities, according to Abu Nowar, who estimated the number of fighters of Al Qaeda-inspired group in Syria and Iraq at no more than 12,000, nearly 3,000 of whom are foreigners.
Sarayreh agreed with Abu Nowar, saying that the number of ISIL fighters who expelled the Iraqi army out of Mosul is less than 1,000, but the people of Iraq's second largest city supported the rebels against the Baghdad government.
What is happening in Iraq is a Sunni revolution against Maliki but the Iraqi government and the media depict it an ISIL-led fight against the regime to justify attacks on Sunnis as part of the war on terror, both analysts agreed.
Jordan is ready
Sarayreh said as the armies of both Syria and Iraq have evacuated their border posts with Jordan to fight inside cities, the burden on the Jordanian military has increased as soldiers have to guard a 360km frontline with Syria and around 180km with Iraq.
"This could cause infiltrations by militants from and into Jordan but the army here has the capabilities of protecting the borders and preserving the country's security," he added.
The Jordanian army enjoys a worldwide reputation in terms of professionalism and equipment, Sarayreh said, adding that Jordan enjoys an advanced electronic security surveillance system.
However, the expert said guarding the borders with both trouble-hit countries come at a heavy economic and financial cost.
Abu Nowar also agreed that the Jordanian army is well-prepared and well-trained to protect the borders with Iraq and Syria for years to come, noting that the biggest risk Jordan may face is a possible scenario of refugee influx from Iraq, which, he said, is heading for civil war.
"This war would last for years and no sect would come out as victorious," he said, highlighting the importance of establishing neutral areas inside Iraqi territories to protect people fleeing the war.
"Jordan cannot handle another wave of refugees," he said.
In addition to the professionalism of the armed forces, the demographic component of Jordan is another "shield" that would prevent radical militants from targeting Jordan, Abu Nowar said, explaining that harmony among Jordanians is key to the Kingdom's stability.
"The Jordanian people reject Daesh and other radical groups," he noted.
Foreign intervention in Iraq
As the US and Iran have signalled possible intervention in Iraq to fight "terrorists", Abu Nowar warned that possible drone strikes by the US against fighters may make Sunni Iraqis believe that Washington sided with Maliki against them.
"This would jeopardise American interests in the entire region," he added.
Sarayreh also warned against Iranian and American intervention, indicating that Maliki should work on reaching a political solution to end the crisis by offering compromises instead of asking for help from Tehran and Washington.
It is urgently needed to form a national unity government in Iraq that includes fairly all sects to end the fighting, he said.
Related Articles
Jun 22,2014
Although the Islamic State of Iraq and the Levant (ISIL) has controlled Rutba which is located 60km northeast to the border with Jordan, this does not pose a threat to the Kingdom, officials and experts said on Sunday.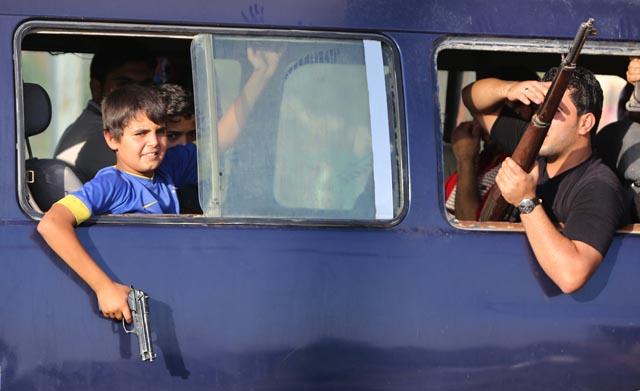 Jun 17,2014
With the Islamic State of Iraq and Levant (ISIL) advancing on Iraq's key cities and with the Al Qaeda-inspired militia perceived as turning from a "virtual" to "real" state, Jordan should be vigilant and fully prepared to deal with any security developments, according to columnists.
Jun 30,2014
Iraqi troops battled to dislodge an Al Qaeda splinter group from the city of Tikrit on Monday after its leader was declared caliph of a new Islamic state in lands seized this month across a swathe of Iraq and Syria.
Newsletter
Get top stories and blog posts emailed to you each day.