You are here
Jordan, Italy 'read on the same page' on Jerusalem, region
Italian minister says Kingdom has commended EU respect for its policies
By JT - Dec 14,2017 - Last updated at Dec 16,2017
His Majesty King Abdullah meets with visiting Italian Interior Minister Marco Minniti at Al Husseiniya Palace on Thursday (Photo courtesy of Royal Court)
AMMAN — His Majesty King Abdullah on Thursday met with visiting Italian Interior Minister Marco Minniti at Al Husseiniya Palace and discussed with him prospects of enhance bilateral cooperation, especially in the security and defence fields.
Discussions also covered the latest developments in Jerusalem in light of the US' decision to recognise the city as the capital of Israel and to relocate its embassy from Tel Aviv to the occupied city, according to a Royal Court statement.
Talks on regional crises focussed on developments in the Libyan arena and efforts under way to achieve stability in the North African Arab nation.
King Abdullah and Minniti also reviewed regional and global efforts to counter terrorism within a holistic strategy.
For his part, the Italian minister commended the Kingdom's pivotal role in efforts to restore security and stability in the Middle East.
Royal Court Chief Fayez Tarawneh, Minister of Interior Ghaleb Zu'bi and Italian Ambassador Giovanni Brauzzi attended the meeting.
Also on Thursday, Zu'bi met with Minniti over several issues of mutual interest to both countries and the region, especially the US' Jerusalem move.
Bilateral ties and the Syrian refugee crisis and its impacts on the Kingdom's economy were also discussed, the Jordan News Agency, Petra, reported.
Zu'bi pointed out that Jordan has been able to maintain its security and stability despite regional turmoil "thanks to the wise Hashemite leadership and public awareness".
Jordan and Italy, he said, need to promote bilateral cooperation in the fields of combating terrorism, crime and exchanging of intelligence information.
The Kingdom's policy on refugees is based on humanitarian and moral values that dictated hosting them regardless of the negative repercussions that have affected the country's service infrastructure, he highlighted.
For his part, Minniti noted that Jordan and Italy share the values of moderation, acceptance of others and co-existence, expressing his country's appreciation of the Jordanian role in dealing wisely with regional crises and its policy on refugees, thus earning the respect of Italy and EU countries, he noted.
Commenting on the US' decision on Jerusalem, the Italian minister said that his country fully supports Jordan's stance towards this issue, adding that the decision would worsen regional turmoil.
He added that the Palestinian issue has to be solved rather than become more complicated, through launching understandings between both parties to the conflict, warning against any "destructive" unilateral decisions that cannot offer practical solutions that satisfy all.
up
21 users have voted, including you.
Related Articles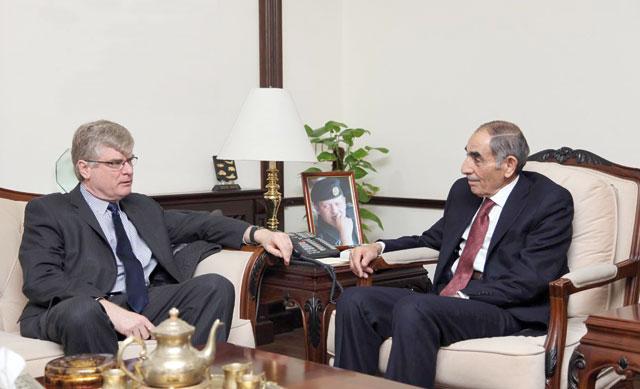 Feb 14,2017
AMMAN — Interior Minister Ghaleb Zu'bi on Tuesday met with US Deputy Assistant Secretary of State for Population, Refugees, and Migration Si
Feb 16,2017
AMMAN — Interior Minister Ghaleb Zu'bi on Thursday met with Mohammed Ali Koman, secretary general of the Arab Interior Ministers' Council, a
May 26,2015
AMMAN — Jordan has bolstered its military cooperation with Italy while also setting the agenda for the upcoming joint military exercises spa
Newsletter
Get top stories and blog posts emailed to you each day.