You are here
Jordan leading anti-Daesh coalition's ideological war — envoy
By Khetam Malkawi - May 15,2016 - Last updated at May 15,2016
His Majesty King Abdullah holds talks with US Special Presidential Envoy for the Global Coalition to Counter Daesh Brett McGurk in Amman on Sunday (Photo courtesy of Royal Court)
AMMAN — His Majesty King Abdullah on Sunday discussed regional and international efforts to combat terrorism with US Special Presidential Envoy for the Global Coalition to Counter Daesh Brett McGurk, according to a Royal Court statement.
They discussed latest developments in the Middle East, especially in regard to Syria and Iraq.
The meeting was attended by HRH Prince Feisal, King's Military Adviser and Chairman of the Joint Chiefs-of-Staff Gen. Mashal Al Zaben and King's Adviser on National Security Affairs and General Intelligence Department Director Gen. Faisal Shobaki.
Also on Sunday, Deputy Prime Minister and Foreign Minister Nasser Judeh discussed with McGurk the Jordanian-US partnership to combat terrorism, the Jordan News Agency, Petra, reported.
The two officials stressed the importance of continued coordination and work among the concerned international parties to combat terrorism.
Judeh said that Jordan supports any efforts to fight terrorism and that Jordan will always be at the forefront of these efforts.
For his part, the presidential envoy expressed his appreciation of the Jordanian role in combating terrorism and achieving security and stability in the region and the world.
At a press conference following the meeting, the US official said Daesh is shrinking and witnessing military and ideological setbacks.
McGurk said the "caliphate" has suffered recent military defeats and lost territories in both Syria and Iraq, stressing that the war against Daesh is not only a military campaign, but also a diplomatic one.
He explained that the 66-member anti-Daesh coalition has also managed to define the extremist group's sources of funding that reaches $1 billion a year and targeted oil facilities that generate $500 million a year.
The rest of funds, he explained, come from the extortion, taxes, kidnapping and antiquity trade.
In terms of arms that Daesh used in its operation, the military official noted they are using the arms they have captured during their operations, and the coalition has succeeded in shutting down the source from where Daesh gets the arms.
"We are restraining and constraining, every single day, the finances," McGurk stressed.
As for the role of Jordan in the counter-Daesh coalition, McGurk said, aside from the air strikes, Jordan is one of the main regional partners in the coalition and His Majesty King Abdullah leads the efforts to handle the ideological aspect of the war. "This is one of the most important initiatives and we really count on Jordan for that," he said.
He added that Jordan is in a constant communication with other regional partners regarding this aspect, what is on for social media on Daesh and who they are connected to.
"Eighteen months ago, they [Daesh] had free reign to spew their propaganda but… the coalition counters that."
He noted that, now, for every pro-Daesh twitter handle, there are six handles countering their message and "we have worked to remove 125,000 handles spewing Daesh's propaganda".
This social media campaign is being conducted in cooperation with Jordan, the UAE, Malaysia and the UK, according to the official.
He also demonstrated a map showing the advancement of military operations against Daesh and the areas that are still completely dominated by the terrorist group.
However, the official stopped short on commenting about future plans and attacks to liberate Al Rutba just across the border with Iraq, and the main border gate to Jordan.
As for Al Tanaf of Syria, which is also near the border with Jordan, McGurk said the US is working with Syrian moderate groups to defeat Daesh there.
However, he underscored the importance of cessation of hostilities between the Syrian regime and opposition to fight Daesh, as the moderate opposition cannot fight Daesh while they are in conflict with the regime army forces.
Asked why it is taking so long to defeat Daesh, the official said this is an enormous global challenge. "We have also learned some lessons over the years… We don't want US forces going in cleaning those cities because that is not the recipe for sustainable success."
"We believe a sustainable model for Mosul is for people to take back their territories and to take back their homes."
"So we do not want a repeat of the mistakes of the past."
"It's a start, [we] have to take it in stages, train locals, establish presence," he insisted.
Related Articles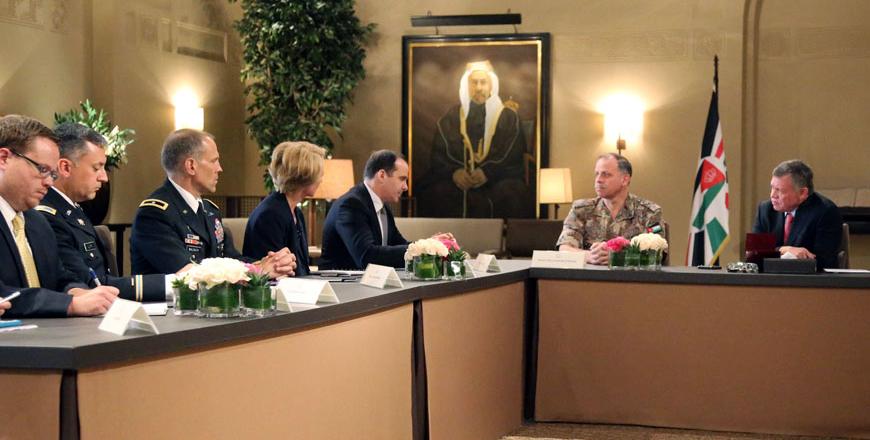 Jun 23,2016
AMMAN — His Majesty King Abdullah on Wednesday stressed that Jordan is continuing its efforts to combat terrorist groups, especially Daesh.D
Dec 10,2015
AMMAN — King's Military Adviser and Chairman of the Joint Chiefs-of-Staff Gen.
Apr 08,2015
His Majesty King Abdullah met on Wednesday with Iraq's Defence Minister Khalid Obeidi at Al Husseiniya Palace and discussed regional issues. 
Newsletter
Get top stories and blog posts emailed to you each day.