You are here
Jordan paying economic price for its unrelenting political stands — King
By Mahmoud Al Abed - Jan 31,2018 - Last updated at Jan 31,2018
His Majesty King Abdullah meets with Jordan University students in Amman on Tuesday (Photos courtesy of Royal Court)
AMMAN — His Majesty King Abdullah has said that the challenging economic situation and pressures on Jordan have ensued from the Kingdom's political stands.
He added that the country has received messages offering easing the economic pressure on Jordan in return for accepting to change its position on Jerusalem.
He made the remarks during a conversation with University of Jordan students on Tuesday, excerpts of which were released by the Royal Court on its social media accounts.
Elaborating on Jerusalem issue, His Majesty said that since the holy city is not only for the Jews, and as Christians there are subject to Israeli harassment like Muslims, there is a need for a new type of relation between the world's Muslim and Christian communities to defend their rights in the city.
Internal challenges
Listening to questions and comments by the young people attending the meeting concerning reform, economic challenges, unemployment and political reform, among others, King Abdullah called on grassroots, especially youth, to "speak loudly and push politicians and officials from the base", while he places pressure from the top.
He underlined the need for administrative reform, strengthening and expanding the middle class, and a change in the mindset as prerequisites to the broader reform plan.
"We as Jordanians work differently from all others. If there was an incompetent [official], we wait six months until we send him a way, because we do not want to anger his tribe...". He stressed that his policy is to sack that person immediately and let the people know that he or she has not done their job efficiently.
The Monarch underlined that the refom under way in the Jordan Armed Forces-Arab Army and the General Intelligence Department since last year "focuses on ensuring quality at the expense of quantity".
He cited other examples where the prevailing culture must be changed. In terms of fighting corruption, he said, all agree that wasta (favouritism) is unacceptable, "but when the person[s] involved is a relative, we stop there". The same applies to law enforcement, the Monarch said, referring to cases when a wanted criminal finds support in his community despite his bad record.
"It is either that we are serious about the desire to change or we want to stay where we are now."
His Majesty raised the issue of decentralisation as a vehicle of reform that dictates change in the political mechanism, as the "voice of villages and towns [is supposed] be reaching faster than Amman's". The logic, he said, is that the number of Parliamentary seats should be lowered from 130 to 80 as the mandate of the House will be restricted to nationwide policies. The King noted that such a decision might face resistance.
His Majesty also criticised "irresponsible freedom" exercised on social media that takes the form of character assassination and rumour mongering, stressing that such acts cross the redlines. "There is no ceiling for freedoms, but they should be coupled with a sense of responsibility," he said.
Asked on his Discussion Papers, a series of articles His Majesty has written since 2012 to trigger a national debate over national issues, he told the participants that he "cannot tell officials what to do", but seeks to see a debate involving grassroots, lawmakers and officials that lead to the envisioned change.
On political parties, the King reiterated that although there are now parliamentary blocs, the country needs two or three political parties that build their platforms on national issues rather than geographical, religious or other affiliation, noting it might be too late now to have such parties before the coming election cycle.
External challenges
Commenting on the Kingdom's philosophy on foreign policy, King Abdullah stressed that the qualities of the Jordanian character play an important part.
"Jordanians do not lie and keep their promises," he said, adding that despite the weak assets and small size, Jordan is "bigger than its geographical boundaries... and Jordanians have always proved that they are up to the responsibility when the country faces challenges on its borders", citing the performance of the Kingdom in the wars it has fought historically, which exceeded its military capabilities and excelled that of countries with greater defence assets.
"I do not worry about our cohesion when we are challenged," he said.
On a different note, the King told his young audience that although the conventional wisdom of this generation and the one preceding it is to head West in terms of foreign ties, he saw that there is great potential in the East and attract investments from there, especially since several countries from that side of the world want access to Europe and US through Jordan.
"I have told officials that if I were you I would follow up closely [on deals with Asian countries] even if that means sending a delegation every week" to India, for example, to make things happen.
A message to youth
King Abdullah repeated throughout the conversation that it is the youth who know well what the country wants and where it should be going, stressing that he feels relieved whenever he has a talk with young people.
"Maybe it is too late for the older generation to change culture-wise, but you can change the culture. You draw the redlines and you say enough is enough."
He called on the young men and women to keep in touch with his office, reiterating that in this way, they would be a great help to His Majesty as he pushed for reforms and changes to the status quo.
Following the discussion, His Majesty King Abdullah took to Twitter to express his delight of meeting with the students.
"Our Jordanian youth are excelling at all levels with their awareness and bright ideas. I was delighted today to meet students of the University of Jordan in an enriching dialogue that addressed various local and international issues, which strengthened my faith that the youth of the homeland are the pillars of its future, and capable of bearing the responsibility of continuing building and modernisation," His Majesty tweeted in Arabic.
Related Articles
Sep 14,2014
His Majesty King Abdullah's fifth discussion paper dispels all doubts about progress of reform amidst a turbulent region and is a call on all stakeholders to exercise their roles towards desired reform, political analysts, journalists and professional association officials said Sunday.
Jan 19,2014
The All Jordan Youth Commission is working on establishing offices in badia areas and camps in order to reach as many young people as possible.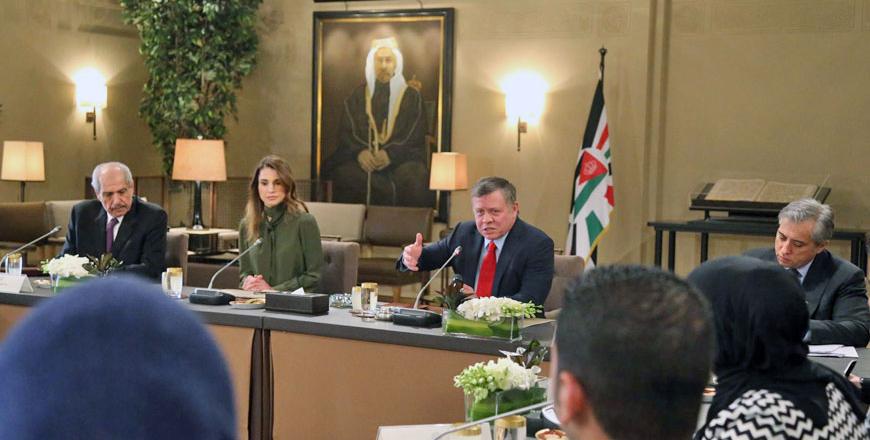 Feb 01,2016
AMMAN — His Majesty King Abdullah on Sunday expressed confidence and pride in young Jordanians, underscoring the importance of their role in
Newsletter
Get top stories and blog posts emailed to you each day.