You are here
'Jordan ranks 57th out of 176 countries in public sector corruption'
By JT - Feb 22,2018 - Last updated at Feb 22,2018
AMMAN — Jordan has scored 48 out of 100 in the 2017 Corruption Perceptions Index, the local organisation Rasheed for Integrity and Transparency (RIT) (Transparency International — Jordan) said on Thursday.
The index, which ranks 180 countries and territories on their perceived levels of public sector corruption, according to experts and businesspeople, uses a scale of 0 to 100, where 0 corresponds to highly corrupt and 100 to very clean, according to a press release by RIT.
Although Jordan's score dropped since 2015, the organisation said that it remained the same in 2017 as in 2016.
In terms of ranking, Jordan fell to the 59th place out of 180 countries, while in 2016 Jordan was ranked 57th out of 176 countries.
"Jordan declined to the fourth country in the Arab world, after the UAE, Qatar and Saudi Arabia, while it had reached the third place in the year 2016," according to RIT.
The Index measures the perceived level of corruption in the public sector, based on 13 data sources, according to experts' assessments and business people opinions.
However, only eight sources evaluated Jordan this year including Bertelsmann FDN Transformation Index, Economist Intelligence Unit Country Risk Ratings, Global Insight Country Risk Ratings, World Competitiveness Year Book, Political Risk Services International Country Risk Guide, World Economic Forum Executive Opinion Survey, World Justice Project Rule Of Law Index and Varieties of Democracy.
Based on the findings, RIT recommended that Jordan review all relevant legislation to ensure full compliance with the United Nations Convention Against Corruption and all Financial Action Task Force recommendations.
The organisation recommended that the Kingdom insure data on transparency and anti-corruption issues are regularly updated and published in the annual reports of all relevant ministries, and made available to the public within a specified period. It should work on strengthening transparency in the public sector by incorporating into relevant legislation specific requirements for regular interest disclosure, and for the publishing of information contained in income and asset declarations.
In addition, RIT recommended incorporting into relevant legislation articles that secure the financial, administrative and political autonomy of watchdog, supervisory, and enforcement bodies, such as the media, the Audit Bureau, the Committee of Party Affairs, the Information Commissioner Board and the law enforcement agencies.
Other recommendations focused on strengthening anti-money laundering legislation by including domestic public officials within the definition of politically exposed persons and amending relevant legislation to specifically include protection of whistleblowers who disclose their information publicly or to third parties if necessitated by circumstance.
Related Articles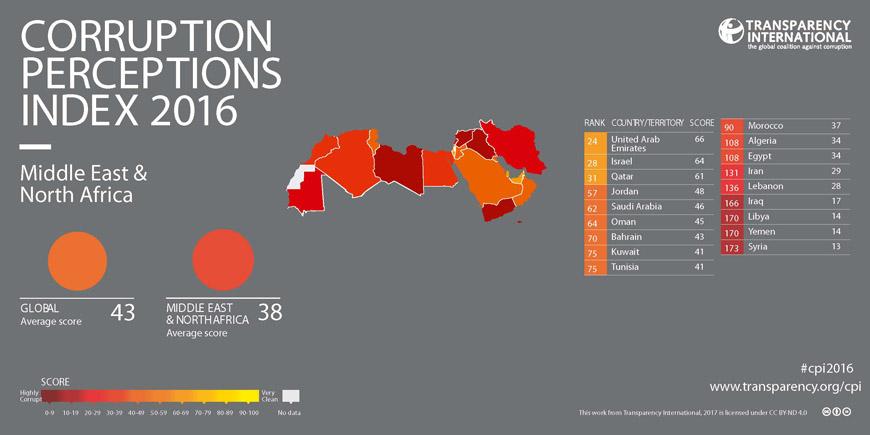 Jan 26,2017
AMMAN — Jordan is perceived as more corrupt and less transparent than in 2015, according to its ranking and score in Transparency Internatio
Apr 12,2017
AMMAN — Prime Minister Hani Mulki and Austrian Justice Minister Wolfgang Brandstetter on Wednesday met to discuss the "distinguished ties" b
Feb 15,2015
Senior government officials on Sunday held a meeting with representatives from Transparency International as authorities are seeking to achieve a better ranking in future  editions of the Corruption Perceptions Index (CPI).
Newsletter
Get top stories and blog posts emailed to you each day.