You are here
Jordan should build on anti-graft achievements — commentators
By Laila Azzeh - Feb 06,2016 - Last updated at Feb 06,2016
Participants attend a seminar in Amman last Thursday to discuss Jordan's ranking on the Corruption Perceptions Index (Petra photo)
AMMAN — Jordan should seize the opportunity of its improved performance in the Corruption Perceptions Index to push for applying better anti-graft measures, according to experts.
The Kingdom's performance in Transparency International's 2015 Corruption Perceptions Index has registered an improvement compared to last year, coming in 45th place among 168 countries.
In the index, which measures the perceived levels of public sector corruption, Jordan scored 53 out of 100, along with Mauritius and Namibia.
Last year, the Kingdom was ranked 55 among 175 countries in the index, scoring 49 out of 100.
At a seminar held by the Jordanian Integrity and Transparency Coalition "Rasheed" on Thursday, participants called for entrenching the rule of law and the independence of the media, along with ensuring that ministers, senators and deputies abide by the relevant codes of conduct.
Out of the only five Arab countries that passed the index, Jordan is the sole non-oil country, which is mainly due to the level of security it enjoys, they said.
Since the publication of the index last week, Jordanians have expressed "scepticism" over the results, participants at the seminar said.
"We have heard people saying that they did not sense the outcomes of the index on the ground, and that they believe that describing corruption as declining will give a lifeline to the corrupt," said Rasheed Deputy Chairman Osama Azzam.
The Kingdom's score exceeded the average regional score of 39 out of 100, which fell four points below the global average score of 43 out of 100.
At a Cabinet meeting last Wednesday, Public Sector Development Minister Khleef Al Khawaldeh said Jordan's performance is "good" when compared to the 168 countries included in the index, as the evaluation of anti-corruption efforts in the Kingdom are better than 68 per cent of the countries surveyed.
The minister attributed Jordan's four-point-progress over last year's score to the collective efforts to enhance transparency, integrity and accountability in public agencies, through the adoption of several programmes and initiatives.
On a regional scale, Jordan ranked fourth after Qatar, the United Arab Emirates and Israel, while Sudan and Somalia ranked the lowest in the region.
The report placed emphasis on the need for anti-corruption efforts and development to be interlinked, especially with the inclusion of fighting corruption among the new Sustainable Development Goals.
During the seminar, Anti-Corruption Commission President Mohammad Allaf said the Kingdom's political reforms realised during the last decade have contributed to improving its performance in the index, noting that efforts are under way to establish an independent entity responsible for retrieving illicit gains.
On the other hand, Omar Razzaz, who chairs the Privatisation Evaluation Committee, suggested introducing a local index for corruption and integrity along with the international indicators.
Related Articles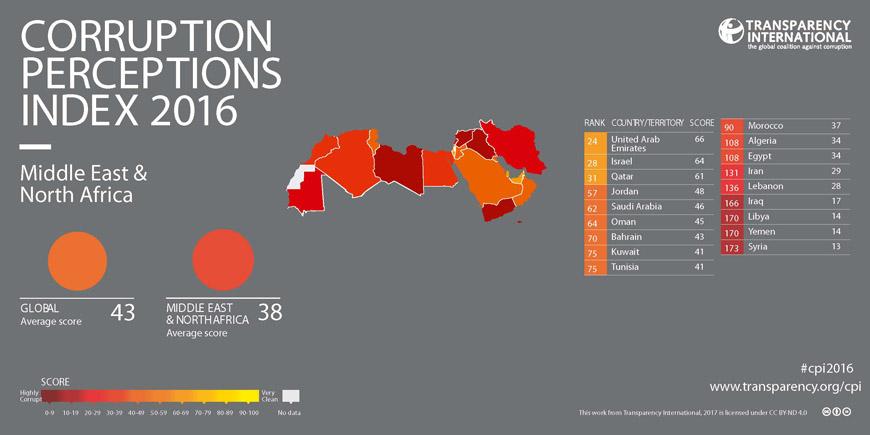 Jan 26,2017
AMMAN — Jordan is perceived as more corrupt and less transparent than in 2015, according to its ranking and score in Transparency Internatio
Jan 28,2021
AMMAN — The Kingdom has maintained its ranking on the Transparency International's (TI) Corruption Perceptions Index (CPI) 2020 for the
Jan 27,2016
AMMAN — Jordan's performance in Transparency International's 2015 Corruption Perceptions Index has registered an improvement compared to las