You are here
Jordan signs grant deal to receive 100,000 tonnes of US wheat
By JT - Feb 01,2017 - Last updated at Feb 02,2017
AMMAN — The Jordanian and US governments on Wednesday signed a 2017 US wheat grant agreement of 100,000 tonnes as part of the food aid programme implemented by the US, a Planning and International Cooperation Ministry statement said.
Planning and International Cooperation Minister Imad Fakhoury and Assistant Deputy Administrator at the US Department of Agriculture Jocelyn Brown signed the agreement, the statement said.
Fakhoury said announcing the exceptional grant came in light of the US' understanding of the challenges facing Jordan, which include the repercussions of hosting Syrian refugees.
The minister thanked the US for its continuous support and said that the aid reflects the advanced level of relations and strategic partnership.
An agreement was reached with the US to use the revenues of selling the wheat to implement the first phase of the Sheidiyeh-Hasa/Amman water project, which complements the Red Sea-Dead Sea Water Conveyance project.
The Kingdom, during 2011 and 2012, benefited from two wheat grants presented by the US government at 50,000 tonnes, both worth a total of $36 million, which were exceptional since usually the US allocates them to countries poorer than Jordan.
In 2015, another grant of 100,000 tonnes worth $25.1 million was presented by the US, according to the statement.
The ministry said the latest wheat grant is separate from the economic aid programme agreed upon by both countries through a memorandum of understanding that governs US aid to Jordan during 2015-2017, signed in February 2015.
Related Articles
May 10,2015
The US will provide Jordan with 100,000 tonnes of wheat under a grant agreement for 2015 signed Sunday, according to the Ministry of Planning and International Cooperation.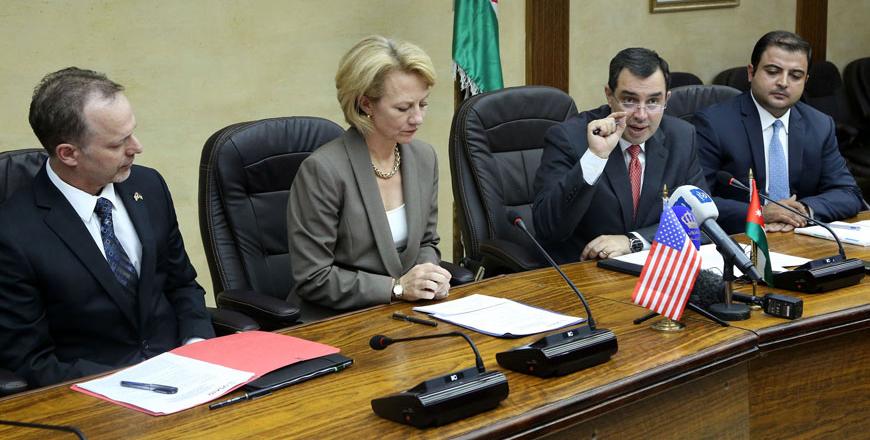 Sep 21,2015
AMMAN – Jordan and the US on Monday signed four grant agreements worth $429.7 million under the Economic Support Fund (ESF) for 2015. T
Apr 04,2015
The US government has approved providing Jordan with 100,000 tonnes of wheat, the Ministry of Planning and International Cooperation said in a statement released Saturday.
Newsletter
Get top stories and blog posts emailed to you each day.