You are here
Jordan slams Israel over minister's raid of Al Aqsa Mosque with settlers
Kingdom joins condemnation of terror attack in Mali
By JT - Jun 12,2019 - Last updated at Jun 12,2019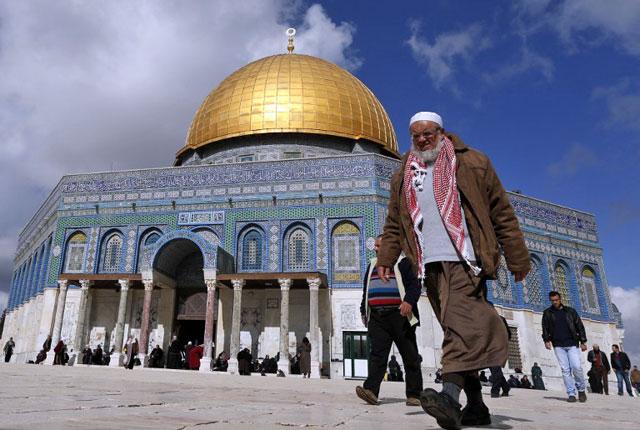 A Palestinian man walks past the Dome of the Rock in this photo taken in January of 2017. Foreign Ministry Spokesperson Sufian Qudah on Tuesday called on the Israeli occupation to cease any provocative practices at the mosque (AFP photo)
AMMAN — The Foreign Ministry on Tuesday denounced the continued Israeli attacks against Al Aqsa Mosque/Al Haram Al Sharif, the latest of which was the break-in of the Israeli agriculture minister and several settlers earlier in the day.
Foreign Ministry Spokesperson Sufian Qudah warned against the consequences of the provocative practices that violate international laws and fuel tensions, according to a ministry statement.
Qudah called on Israel, as an occupying power, to immediately cease all its provocative practices on holy sites and respect its commitments to international law.
He also urged Israel to respect the authority of the Jerusalem Awqaf Department, in its capacity as the sole legal institution responsible for administrating all the affairs of Al Haram Al Sharif as stipulated in international law.
Also on Tuesday, the Foreign Ministry strongly condemned the terrorist attack that targeted a village in central Mali that resulted in the death of at least 95 people, including women and children.
Qudah, in a second ministry statement, expressed the Kingdom's solidarity with the government and the people of Mali in facing terrorism and "blind violence that target the security, peace and stability of nations".
The spokesperson also conveyed condolences over the loss of life, reiterating Jordan's stance that rejects all types of violence and terrorism that target all without any consideration to religions and races.
Newsletter
Get top stories and blog posts emailed to you each day.