You are here
Jordan Steel Company's decision to lay off 210 employees 'illegal'
By Dana Al Emam - Jan 15,2015 - Last updated at Jan 15,2015
AMMAN — The Jordan Steel Company's decision to lay off workers at its recently closed factory is "illegal", a unionist said on Thursday.
The recent closure of the Jordanian Coalition for Iron and Steel Manufacturing Company "is putting the lives of 210 workers in jeopardy", said Khaled Fanatseh, president of the General Union for Workers in Mining Industries.
The terminated employees demand "fair compensation" due to the closure, which is driven by financial reasons, Fanatseh told The Jordan Times.
They want the Jordan Steel Company to reopen the factory, move them to other subsidiaries or pay them compensation, he added.
Fanatseh noted that the "sudden" termination of workers' services is "illegal" as the group's board of directors did not negotiate the closure with the union or the Labour Ministry.
The union leader cited Article 31 of the Labour Law, which stipulates that employers must notify the Labour Ministry prior to laying off or suspending employees due to economic or technical circumstances, provided that workers still retain their legal rights for the termination of service.
The situation is currently "tense" but open dialogue between stakeholders is paving the way for finding a solution to the problem, Fanatseh said.
He added that the case is "snowballing", as 500 employees who work at other companies affiliated with the group are on strike in solidarity with their laid-off colleagues.
In a statement carried by the Jordan News Agency, Petra, on Thursday Labour Minister Nidal Katamine said he has formed a committee to look into the Jordan Steel Company's "illegal" decision to lay off the workers.
At a meeting with several stakeholders, Katamine reiterated the need to find "middle ground" between the company and its employees to reach a "just settlement" that is in line with labour regulations and protects the rights of both parties.
A number of workers staged a sit-in in front of the Labour Ministry on Thursday morning, according to Petra.
Management officials at the Jordan Steel Company were in an "all-day meeting with public officials" and were not available for comment despite several attempts by The Jordan Times to contact them.
Related Articles
Mar 19,2015
Employees of the Jordan Oil Shale Company (JOSCO) started a work stoppage on Thursday until the fate of their laid-off colleagues is resolved. 
Dec 02,2014
A new dispute between Aqaba Container Terminal (ACT) management and employees has halted operations at the facility.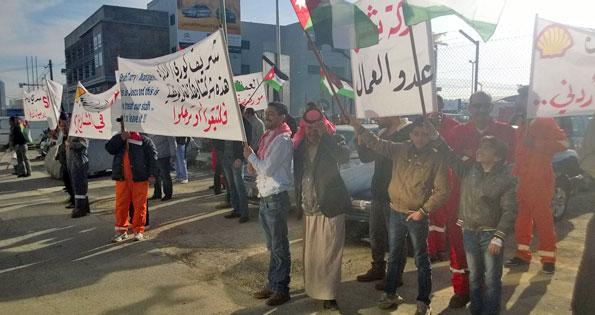 Mar 17,2015
A number of Jordan Oil Shale Company (JOSCO) employees gathered outside its premises in Amman on Tuesday to protest against a decision to lay them off.
Newsletter
Get top stories and blog posts emailed to you each day.