You are here
'Jordan suffered from trade deficit with EU countries in 2015'
By JT - Oct 18,2017 - Last updated at Oct 18,2017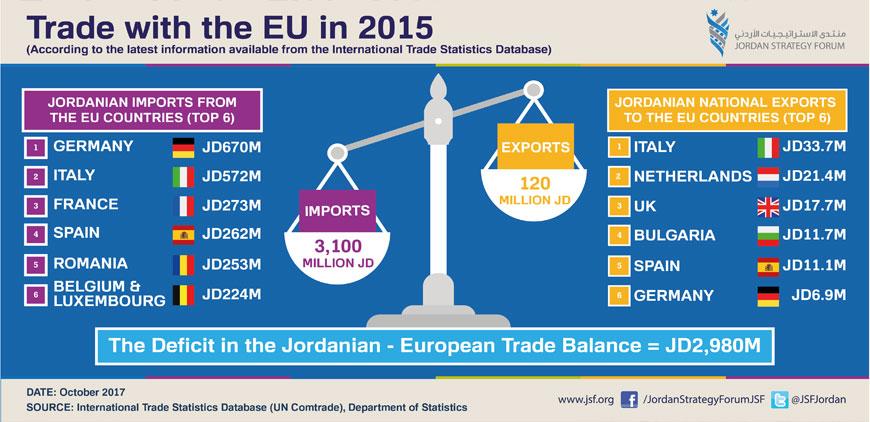 AMMAN — Jordan's exports to the EU totalled JD120 million in 2015, which amounts to only 2.5 per cent of the total exports while Jordanian imports from the EU reached JD3.1 million, indicating a large trade deficit between Jordan and the EU countries, according to a recent report by the Jordan Strategy Forum (JSF).
The report, which detailed exports, imports and re-exports between Jordan and each country within the EU, looked at 20 industrial sectors with the aim of helping and supporting companies and industries willing to reach out to the EU market.
Italy topped the list of European countries importing from Jordan (JD33.7 million), followed by the Netherlands (JD21.4 million), United Kingdom (JD17.7 million), Bulgaria (JD11.7 million), Spain (JD11.1 million) and Germany (JD6.9 million).
Latvia, Finland, the Czech Republic, Estonia were among the least EU-importing countries from Jordan with imports amounting to JD17,000, JD29,000, JD70,000 and JD80,000 respectively.
The JSF described these countries as markets with "good opportunities", especially after the "Relaxing Rules of Origin" agreement that took effect in July 2016, according to the report.
The chemical products sector was the largest in terms of export value (JD36 million or 30 per cent of the total exports to the EU), followed by textiles (JD27 million or 22 per cent of the total exports), precious metals (JD18.5 million), vegetable products (JD14 million). The least exported sectors to the EU countries were arts and antiques (JD10,000) and paper goods (JD27,000).
JSF stressed that there are many opportunities for Jordanian exports to the EU, as the access to any one country means the ability to reach out to the rest of the continent in terms of product quality, acceptance and possibly its competitiveness, according to the report.
The report also looked at the sophistication level for each sector which serves in identifying "high value" exported products from Jordan.
The study also pointed out the importance of adopting an industrial policy in Jordan to promote exports with high sophistication levels, which in turn, will lead to stronger increases in real GDP and prosperity of the Jordanian economy at large.
The report, which was based on the latest available data published by the UN COMTRADE and Department of Statistics, aims at increasing knowledge about trade opportunities with the EU as well as with the rest of the world.
Related Articles
Jan 20,2018
AMMAN — Trade volume of public and special economic zones during the first 11 months of 2017 amounted to around JD6 billion, the Jordan News
Nov 05,2017
AMMAN — As funding for the 2017 Jordan Response Plan, aimed at helping the Kingdom overcome challenges ensuing from the Syrian crisis, has o
May 11,2015
Exporting to Syria has stopped, as well as to Iraq and Yemen, the chairman of Arabian Steel Pipes Manufacturing Company told the shareholders during the general assembly meeting.
Newsletter
Get top stories and blog posts emailed to you each day.