You are here
Jordan urged to promote its tourism product in Malaysia
By Khetam Malkawi - May 14,2014 - Last updated at May 14,2014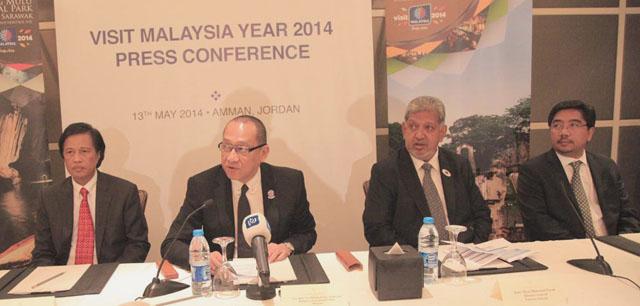 AMMAN — Jordan is a popular destination for Malaysian travellers, who — like other tourists from East Asia — are interested in visiting the country that is home to many places mentioned in the holy books, a Malaysian official said late Tuesday.
Malaysian Minister of Tourism and Culture Mohamed Nazri Abdul Aziz said Jordan can tap the Malaysian market and promote its attractions among his compatriots, who are "passionate" about visiting places mentioned in holy books.
"Jordan is a place that confirms what one has read about in history," Abdul Aziz said at a press conference on Tuesday evening, adding that even the climate of the Kingdom can help attract more tourists from his country.
For educational tourism, Jordan is a popular destination for Malaysians, with 3,000 Malaysian students currently studying here, he said.
In addition, Jordan and Malaysia have started negotiating a tourism cooperation agreement and "we hope to sign it before the end of the year," the official added.
Jordan can benefit from Malaysian experience in tourism, a sector that annually generates 65 billion ringgit (around $20 billion).
The minister explained that government support to the tourism sector is an "investment" as the return for investing in tourism is 64 times more than the seed money.
Figures he presented indicated that around 7,000 of the 324,437 West Asian tourists who visited Malaysia in 2013, were from Jordan.
Abdul Aziz's visit is part of a mission to promote his country as a tourist destination through the "Visit Malaysia 2014" campaign.
Related Articles
May 13,2014
Minister of Labour and Tourism Nidal Katamine on Tuesday met with Malaysia's Minister of Tourism Dato Seri Mohamed Nazri Abdul Aziz and discussed ways to boost bilateral tourism cooperation.
Dec 01,2014
Jordan's Ambassador to Malaysia Maher Lokasha, accompanied by embassy members, on Monday checked on the Jordanian pavilion participating in the religious tourism, Hajj and umra exhibition in Kuala Lumpur.
Oct 26,2016
AMMAN — With the growing interest in Jordan as a religious tourism destination among South Asian countries, authorities are reaching out to
Newsletter
Get top stories and blog posts emailed to you each day.