You are here
Jordan welcomes again UNESCO resolution on Jerusalem holy sites
By Khetam Malkawi , Agencies - Oct 19,2016 - Last updated at Oct 19,2016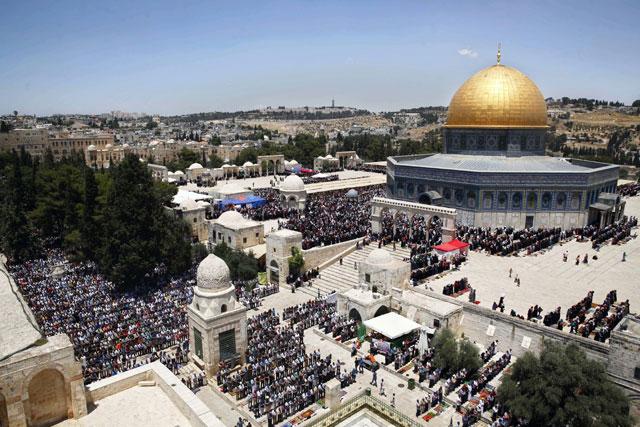 In this June 17, 2016 file photo, Palestinians pray at Al Aqsa Mosque compound during the Muslim holy month of Ramadan in Jerusalem's Old City (AP photo by Mahmoud Illean)
AMMAN/PARIS — Jordan on Tuesday renewed its stand celebrating a 'victory' in UNESCO, which officially adopted an Arab-sponsored resolution condemning Israel's actions at holy sites in East Jerusalem, deepening anger in Israel.
The UNESCO resolution on "Occupied Palestine" was endorsed Tuesday by the agency's executive board at its headquarters in Paris, after being approved at the committee stage last week, when Minister of State for Media Affairs Mohammad Momani described the resolution on Al Aqsa Mosque/Al Haram Al Sharif in East Jerusalem as a political and legal victory against the Israeli occupation.
On Tuesday, he added that the final "historic" decision "underlines the international community's awareness of the sensitivity of this serious issue," adding that the Israeli violations to the sanctity of Al Aqsa Mosque/Al Haram Al Sharif have "created an environment that supports radicalism and aggression".
Momani told The Jordan Times earlier this week that Jordan is proud to be the Muslim and Arab country that spearheads efforts to protect the holy shrines in Jerusalem, urging the international community to support the enforcement of international law and to bring an end to Israeli occupation.
The official said that Israel has to bow to international law and resolutions; meanwhile, Jordan will continue its efforts to maintain the historic status quo of Al Aqsa Mosque/Al Haram Al Sharif.
Referring throughout to "the occupying power", the UNESCO decision condemns Israel for restricting Muslims' access to Al Aqsa Mosque/Al Haram Al Sharif compound — Islam's third holiest site — and criticises damage by Israeli forces to the site and nearby excavations.
this is the latest episode in a series of rows at UNESCO, which is responsible for protecting important heritage sites and is one of few international organisations that recognises Palestine as a member state, Agence France Presse said.
Israel suspended its cooperation with UNESCO last week in response to the draft resolution and its ambassador, Carmel Shama Hacohen, accused the Palestinians of playing "games" on Tuesday.
"This is the wrong place to solve problems between countries or people," he told AFP.
Israel is furious that the resolution refers to the Old City site in Jerusalem by its Muslim name, Al Aqsa Mosque/Al Haram Al Sharif.
Israeli Prime Minister Benjamin Netanyahu complained last week that saying "Israel has no connection to the Temple Mount and Western Wall is like saying China has no connection to the Great Wall of China or Egypt has no connection to the pyramids".
While acknowledging the importance of the Old City to "the three monotheistic religions" — Islam, Judaism and Christianity — the resolution highlights Israeli restrictions on Muslims accessing the mosque.
It also includes condemnation of Israel's blockade of Gaza and "constant aggressions by the Israeli settlers" in the West Bank.
Palestinian deputy ambassador to UNESCO, Mounir Anastas, welcomed the decision on Tuesday.
"This resolution reminds Israel that they are the occupying power in East Jerusalem, and it asks them to stop all their violations, especially in the fields of competence of UNESCO such as the excavations," he told reporters, as quoted by AFP.
Since 2011, when Palestine was admitted to UNESCO, the body has been the scene of numerous diplomatic spats resulting from resolutions condemning Israel, most recently in April but also in October last year.
Unease in UNESCO
The atmosphere before the vote on Tuesday was soured further by threats received by telephone and on social media last week following a vote on the draft resolution, a UNESCO official told AFP.
The text had created unease at the top of the organisation, with Michael Worbs, who chairs UNESCO's executive board, saying he would have liked more time to work out a compromise.
The resolution was voted on last Thursday at the committee stage, with 24 votes in favour, six against and 26 abstentions. There were two absentees.
UNESCO chief Irina Bokova also distanced herself from the resolutions, saying in a statement that "nowhere more than in Jerusalem do Jewish, Christian and Muslim heritage and traditions share space".
Israel's envoy to UNESCO defended Israel's suspension of its cooperation with the organisation as a "proportional reaction" to the resolution passed on Tuesday.
"I hope it will not last long," Shama Hacohen told AFP.
He also saw Mexico's decision to change its position Tuesday from voting in favour of the resolution to abstaining as a small victory.
Related Articles
Apr 13,2016
AMMAN — UNESCO on Tuesday adopted the Jordanian-drafted resolution on Jerusalem, following a "diplomatic showdown" with some member states t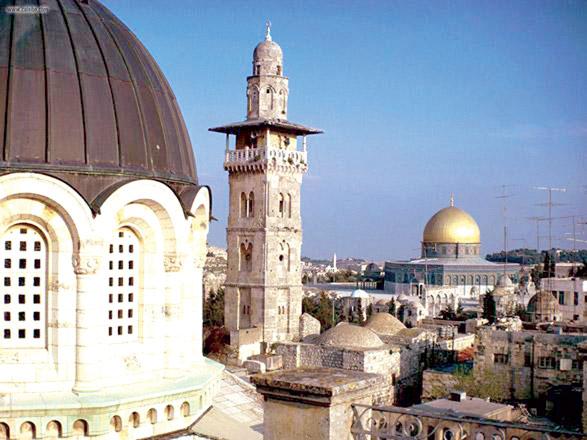 Apr 12,2019
AMMAN — The Executive Council of UNESCO, during its 206th session on Thursday, unanimously endorsed a resolution on Jerusalem, calling on Is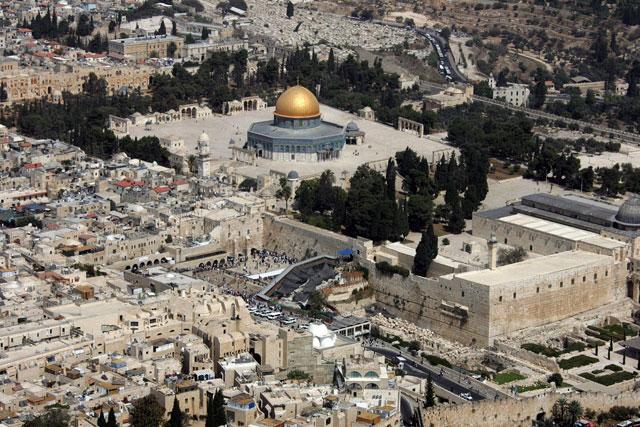 Oct 14,2016
AMMAN — UNESCO on Thursday adopted a decision that calls on Israel to allow the restoration of the historic status quo of Al Aqsa Mosque/Al