You are here
Jordan wins project award for gender empowerment
By JT - Oct 23,2019 - Last updated at Oct 23,2019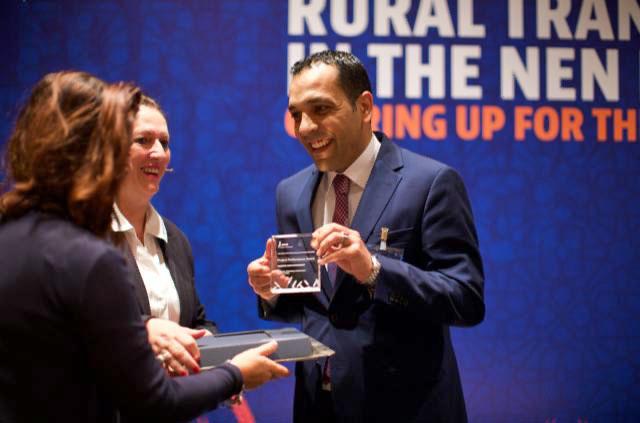 Value chain director for the REGEP project Zaid Al Nsour receives the Best Project Performance Award for Gender Empowerment for 2019 in Istanbul on Tuesday (Photo courtesy of JEDCO)
AMMAN — Jordan, represented by the Jordan Enterprise Development Corporation (JEDCO), on Tuesday won the Best Project Performance Award for Gender Empowerment for 2019 at the Regional Strategic Forum for the Near East, North Africa, Europe and Central Asia 2019.
JEDCO's CEO Bashar Al Zoubi, in a JEDCO statement, said that JEDCO obtained the award for the Rural Economic Growth and Employment Project (REGEP), which is financed by the International Fund for Agricultural Development (IFAD) and implemented by JEDCO.
The JEDCO project competed with IFAD-funded projects from all over the world at the forum, with the participation of more than 25 countries, according to the statement.
Al Zoubi said that evaluation criteria included the project's achievement of indicators and targets related to gender and women's empowerment, with Jordan's project achieving more than double the targetted number, with women's participation exceeding 60 percent of the total number of beneficiaries.
He said that IFAD conducted a survey of all financed projects in the Middle East region through three axes: General project performance, gender empowerment and monitoring and evaluation, according to the statement.
The award was received by the value chain director for the REGEP project, Zaid Al Nsour, in recognition of the project's efforts in empowering men and women in the project.
The forum started in Istanbul on October 21 and ends on October 24, the statement concluded.
Newsletter
Get top stories and blog posts emailed to you each day.